The 2022 Refreshies Awards (Our favorite games of the year and more) | Nintendo Everything Refresh Ep. 037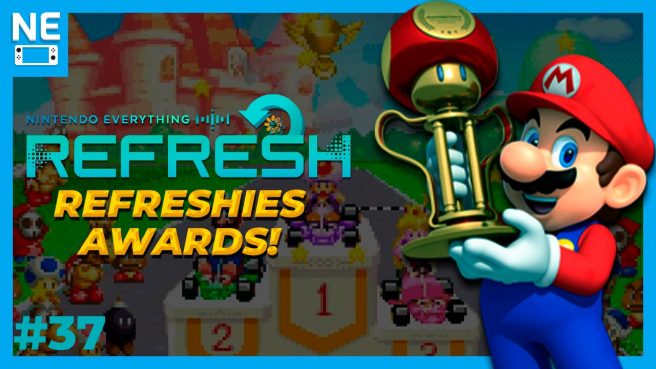 A very happy holidays to all of our listeners around the world! In this extra-special episode of Nintendo Everything Refresh, we're wrapping up 2022 by looking back at our favorite games of the year, and presenting the best of the best with the VERY prestigious "Refreshies" awards! Join your hosts Nick, Nicolas, Dennis and Luiz as they reflect on the games that left an impact on them last year, and as they look forward to the exciting year ahead!
Our podcast is available on most major streaming platforms, including Spotify, Apple Podcasts, Google Podcasts, Amazon Music and Audible, or you can check out the video version on YouTube.
Direct downloads are also available for free through our friends at ListenNotes. Have ideas or suggestions for the show, or want to submit a fan question or topic for a future episode? Let us know what you think – and thanks for listening!
Our team will be taking a break for the holidays, but we'll return in January to keep diving into everything new and exciting in the world of Nintendo! In the meantime, may your holiday season be filled with friends, family and lots of video games!
➡ Inquiries/Fan Mail: [email protected]
➡ Visit the site: https://nintendoeverything.com
Episode Segments:
(00:00) | Intro
(02:16) | Final Fantasy Pixel Remasters announced for Switch
(06:31) | Ys X: Nordics revealed for Switch
(10:19) | Farewell, Ash Ketchum!
(15:17) | Hogwarts Legacy gets Switch release date
(19:05) | More Genesis games confirmed for Switch Online
(21:51) | Splatoon 3 Update
(24:14) | Mario Strikers Battle League update
(26:48) | Nintendo Year in Review website
(33:49) | THE 2022 REFRESHIES AWARDS
Hosts:
Nick Serpa: @ndserpa
Dennis Gagliardotto: @LyonHart_
Luiz Estrella: @Luizestrella_
Nicolas Shadday: @Dayshade1999
Leave a Reply