The Elder Scrolls: Blades update out now (version 1.8) – event quests and more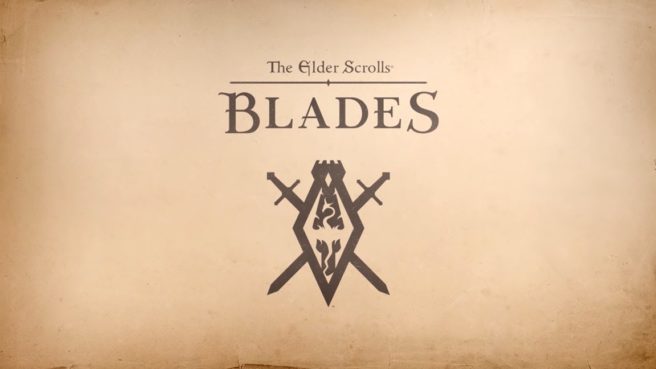 The Elder Scrolls: Blades was updated on Switch this week to version 1.8. Bethesda has implemented event quests, the Sigil Shop, improvements, and bug fixes.
Below are the full patch notes:
INTRODUCING EVENT QUESTS!

Take on limited-time Quests multiple times a week.
Counter each Event Quest's unique properties. In 'The Purifying Flames,' for example, enemies are only vulnerable to fire damage while in 'The Impenetrable Grove,' they act much more defensively.
Earn Sigils by completing Event Quests.
Spend Sigils on powerful items in the Sigil Shop, a new section of the Store.
Complete each Event Quest up to 5 times. Each Stage is harder than the last but rewards more Sigils!

COME TO THE SIGIL SHOP!

Arcane items are guaranteed to receive one or two bonus enchantments when enchanted.
Divine items offer high-level players the power of Dragon items with the look of earlier items, from Iron and Hide to Daedric.
Material bonuses on Divine armors and shields are as strong as those on Dragonscale items.
Buy tempered and enchanted gear, including Dragon and Divine items as powerful as can be.
Buy gold and materials, including Soul Gems and Firebreath Opals.
Nothing stays available forever but everything returns eventually, so keep an eye on the Sigil Shop!

IMPROVEMENTS

Potions and poisons no longer take up inventory space, and up to 50 can now be stacked together.
In Arena mode only, blocking low now resets the high block refresh timer.
In Arena mode only, shield enchantments no longer take effect when an attack is blocked low.
Reduced the ranks at which most enemies use Power Attack abilities.
Added new high-level Mercenaries, Goblin casters, and Necromancers to Jobs, as well as low-level Goblin casters and Necromancers.
While Blinded, you are no longer shown the names of skills used by your enemies.
Added a button to the Quests Menu on the Main Menu.
Opening the Quests Menu now takes you directly to the section with the newest or most important content.
Added, in the Quests Menu, a shortcut from any Quest or Job to the Character Menu.
Added a label to inventory items that are currently part of a loadout.
Added an "IMMUNE" message that appears instead of "RESIST" when an enemy is immune to an attack's damage types.
Added Help Menu sections about the Abyss, the Arena, and Guilds.

SOUL GEMS CHANGES

High-level enemies drop Grand and Glorious Soul Gems instead of Transcendent Soul Gems.
At high player levels, large breakable objects (in ruins and stone) drop Glorious Soul Gems more often.
At high player levels, Glorious Soul Gems drop in the Abyss more often, while Transcendent Soul Gems and alchemy/enchanting materials (Fire Salts, Honeycomb, etc.) drop less often.
Revised the progression of Soul Gem rewards in the Arena and extended the player level range during which Glorious Soul Gems appear.

BUG FIXES

Fixed a crash that could occur when completing any quest from the gladiatorial questline.
Fixed a bug that stopped Consuming Inferno from draining the caster's Health when they were out of Stamina.
Fixed a bug that made Magicka regenerate normally right after a Magicka Surge.
Fixed a bug that made the Fortify Healing bonus enchantment more powerful than listed when drinking healing potions or eating food.
Fixed a bug that made regular Wisps appear deep in the Abyss instead of high-level versions like Great, Mystic, and Grand Wisps.
Fixed a Switch bug that prevented players using motion controls from blocking right after canceling an attack.
Fixed a Switch bug that forced an unintended attack when trying to block while under the effects of Reckless Fury.
Fixed a Switch bug that forced an unintended attack right after canceling an attack.
Fixed a bug that made an unremovable exclamation point icon appear over Henrik.
Fixed an Arena mode bug that delayed a player's blocking animation when they blocked right as they stopped being Paralyzed.
Fixed a bug that let discarded items continue to appear in Loadout Menu item lists.
Fixed a bug that made the Golden Champion's Helm, Silver Hero's Helm, and Bronzed Gladiator's Helm appear, at the Enchanter's Tower, in the list of items that can be enchanted.
Fixed a bug that made the player's eyes disappear while previewing helmets in the inventory menu.
Fixed a bug that missorted items in many shop menus.
Fixed a bug that prevented a guild's overall score from updating as soon as a new member joined.
Fixed a wide variety of interface bugs, minor audio issues, and crashes.
The Elder Scrolls: Blades is available for Switch via the eShop as a free-to-play game.
Leave a Reply