The Elder Scrolls: Blades update out now (version 1.9.0), patch notes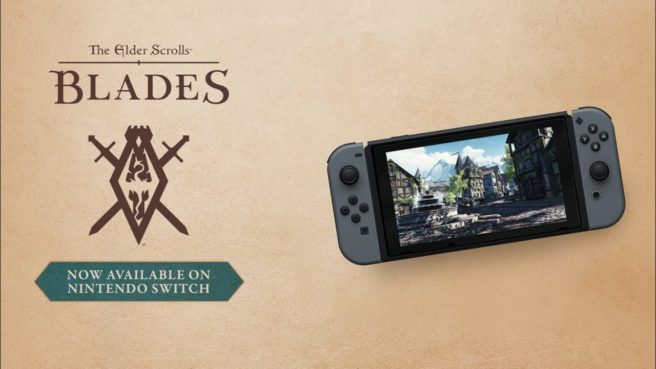 Bethesda has introduced a major 1.9.0 patch for The Elder Scrolls: Blades. The update includes a Quest Menu in place of the Quest Map, new event quests, the Dark Seducers, seasons, improvements, and bug fixes.
Below are the full patch notes:
INTRODUCING THE QUEST MAP!

The Quest Menu has been replaced by the interactive Quest Map.
Explore the Map to see what you've accomplished and get a preview of what lies ahead.
Use the Quick Navigation controls to go exactly where you need to be.
Start Quests and Jobs directly from the Map or access the Details page for more info.
Get quick information about upcoming Quest requirements.

NEW EVENT QUESTS!

The cursed lands beyond the portal now offer new challenges for intrepid heroes.
A new Event will debut this month, with more to come afterwards.
Visit the Event Portal on the new Quest Map to play active Events and get information on upcoming ones.

INTRODUCING: DARK SEDUCERS!

Straight from the Shivering Isles come the Dark Seducers, a Daedric race in service of the Mad God Sheogorath.
These deadly adversaries sport new weapons and armor, which can be purchased in the Sigil Shop and used by players Level 39 and up.
Dark Seducers also have a new exclusive spell, Snakebite, which converts their physical attacks to poison damage.
These enemies will only appear in Events, so stay alert.

NEW FOR PVP: SEASONS!

As of this release, PvP Leaderboards will now reset on the first of each month.
Special PvP rewards will be given out at the end of each season.
This month's reward for the first 100 ranks will be the Gold, Silver or Bronze Victor's Swords, depending on the actual rank achieved.
Members of the top 100 guilds will also receive Gems and Soul Gems once the season closes.
All players who participated in the PvP season will receive Gems and chest rewards when it ends.

IMPROVEMENTS

Many graphical improvements and optimizations have been made in Quests, Jobs and Events, as well as UI screens and controls.
Town: Improved camera angles for Saashi, other NPCs.
Town: The Halloween Town theme is back for a limited time.

BUG FIXES

Arena: Fixed attack swipes not properly registering during PvP combat.
Arena: Players' weapons will now always appear the correct size during pre-match or victory screens.
Art: Fixed texture on right shoulder piece of Durak's Armor.
Events: Fixed a bug where the Event intro text gets stuck on screen.
Events: Fixed a bug where the potion shortcut icon does not appear if the player uses a potion from the inventory immediately upon entering combat.
Inventory: Hide helmet button now works as expected when using it immediately after equipping a helmet.
Quests: Attempting to load into town after completing the first objective of "A Snake in the Grass" no longer causes the game to crash.
Quests: Coming back to Town after completing "Like Father, Like Son" will no longer cause errors if Henrik isn't there.
Quests: Fixed a bug where quitting the game right after defeating an Arena Quest opponent would then prevent the quest from being completed.
Quests: Wanum will now stay in town even when his Arena Quest fight is active, to prevent errors when coming back from Quests where he is the debriefing NPC.
Switch: Fixed a hard crash when the arena matchmaking system automatically Requeues.
Switch: Fixed a bug in PvP where performing a combo swing right before getting stunned could result in a stuck charge swing once the stun ends.
Switch: Fixed a bug that caused the game to freeze on a communication error when resuming gameplay after putting the console to sleep for a few minutes.
Switch: Fixed a bug that could cause the game to freeze when loading when Internet access speed is too low.
Switch: User will now be notified of network issues when retrying on communication errors.
Switch: Fixed a bug where the inventory menu continued being interactive while the Upgrade Inventory modal window was open.
Switch: Fixed a crash that could occur when picking up dropped items in Quests and Jobs.
Switch: Fixed a bug that sometimes caused the game to crash when disconnecting from the network after purchasing an eShop item and returning to the title.
Fixed a wide variety of interface bugs, minor audio issues, and crashes.
The Elder Scrolls: Blades is available for Switch via the eShop.
Thanks to Cameron for the tip.
Leave a Reply