The Good Life Kickstarter adds Switch stretch goal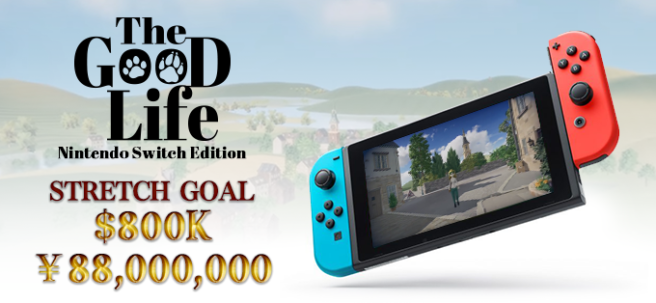 We previously reported that the developers of The Good Life, Hidetaka "SWERY" Suehiro's new game, were experimenting with a Switch version of their game. It seems like they're confident that they can turn these expriments into a proper port – the currently running Kickstarter campaign for the game just added a stretch goal for a Switch version of the game. However, this goal will be pretty tough to reach, as the Switch version will be funded should the Kickstarter reach $800,000, but it's currently sitting at about $660,000 with only 36 hours to go in the campaign. It seems like SWERY and his team are aware of this, however. Here are some statements about the Switch version from the campaign page:
What happens to the Nintendo Switch version if we miss the Stretch Goal?
We really, really want to make a Switch version. Any game developer these days is excited about this console. I would love to see fans playing The Good Life on the go, on the train.
However, I also want to make The Good Life, and for this, we need to be very careful with our budget, and have a clear focus.
If we miss the Stretch Goal, I will work very hard to find an alternative way to get the Nintendo Switch version to happen, but we are not making it a promise to you. And the moment we know we can make it, you will be the first to be informed.

What about collecting funds after the campaign to go toward the Switch Stretch Goal?

We discussed this, and as you will see in the next part of the update, we are planning for a way to collect some extra funds after the campaign. However, I know other Kickstarter campaigns have run late backers campaigns in a way where they have set those extra funds to complete more Stretch Goals.
I think this is admirable and brave, but for The Good Life, we want to be able to really focus on our initial game, and work really hard towards it as soon as possible. The idea of having Stretch Goals indefinitely opened after the end of the campaign is quite scary, it gives us a moving target, harder to hit.
For this reason, we are only looking at the funds gathered during the campaign for the Stretch Goals. I believe it will lead to a better focus on our part, and a better game in the end for you all, and I hope you can support that decision and that philosophy.
Sounds like the developers genuinely want to make a Switch version happen. If you want to make sure they do though, help get the Kickstarter to its stretch goal.
Leave a Reply