The Legend of Heroes: Trails from Zero trailer introduces characters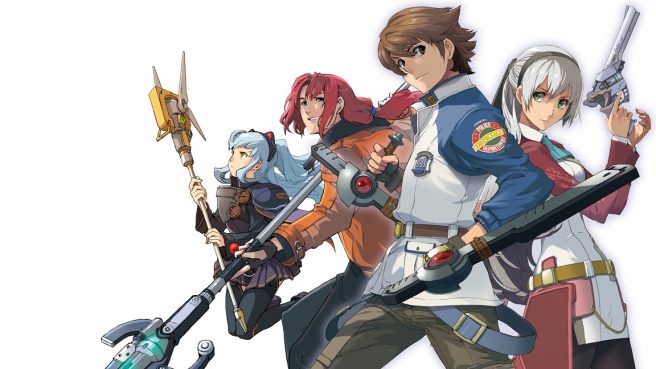 NIS America has issued a new characters trailer for The Legend of Heroes: Trails from Zero, which offers a look at the members of Crossbell's Special Support Section. Lloyd Bannings, Elie MacDowell, Tio Plato, and Randy Orlando are specifically shown.
Here's some information about each one:
Lloyd Bannings
A rookie detective in the Crossbell Police Department and the main character of this game.

After his brother—an accomplished detective—died in the line of duty, Lloyd left Crossbell and spent three years living abroad. Now, after attending the police academy, graduating with top marks, and becoming a detective himself, Lloyd has returned to his homeland.

While he's typically the most serious and by-the-books member of the group, when faced with threats or injustice, his passionate spirit will ignite.

His weapons of choice are a set of specialized police batons, also known as tonfa, which are made for suppressing dangerous threats.
Elie MacDowell
The granddaughter of Henry MacDowell, the mayor of Crossbell.

Crossbell's political situation has long been stuck in an endless war between the Imperial and Republican factions of legislators. Seeing the effects their bickering and plotting has had on the people of Crossbell, Elie decided to study abroad and returned to Crossbell to join the police force—following a different path than the rest of her family.

Friendly and polite, Elie's personality is what one might expect from a typical honors student, but she also has a daring side to her, and enjoys practicing her marksmanship in her free time.
Tio Plato
A girl who works for the Epstein Foundation, one of the continent's leading technological institutes.

Tio was assigned to the CPD on a temporary basis as part of her task of field testing the orbal staff, a newly-developed weapon from the foundation. Very intelligent and technologically savvy, she is a frequent source of information for the other SSS members.

Her stiff manner of speech and coolheaded personality make her seem standoffish, giving the impression she doesn't like interacting with people. However, the truth is that she simply struggles to express herself.

The orbal staff she uses in battle can deal powerful magical damage and even reconfigure itself into different forms, depending on its current mode.
Randy Orlando
A former member of the Crossbell Guardian Force.

Just as Randy's gambling, drinking, and womanizing ways were about to see him expelled from the Guardian Force, the CPD took him in, approving his transfer to its newly-created section.

He acts like a playboy and regularly tries to shirk his duties to hit up the casino, but when it comes down to it, he can actually be very caring and dependable. As the eldest member of the SSS, he plays the role of the team's older brother at times.

A highly skilled fighter, he expertly wields a powerful stun halberd to take down foes.
Have a look at the new trailer for The Legend of Heroes: Trails from Zero showing off the characters below.
The Legend of Heroes: Trails from Zero launches for Switch on September 27, 2022 in North America. The European release will follow on September 30.
Leave a Reply