The Smurfs: Mission Vileaf launch trailer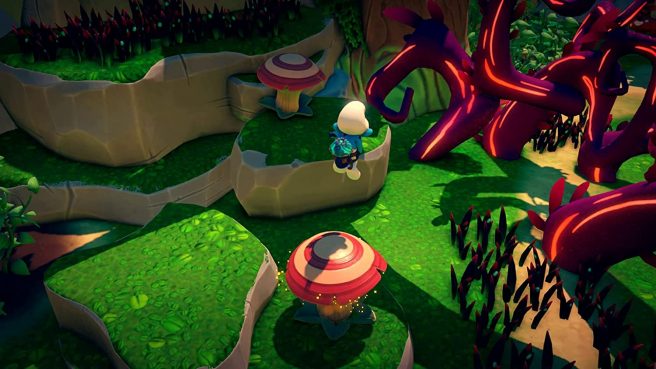 Publisher Microids and developer Osome Studio have readied a launch trailer for The Smurfs: Mission Vileaf, their 3D platformer adventure game. The title recently made it to Switch in Europe, with the North American release happening in a few days.
Learn more about The Smurfs: Mission Vileaf with the following overview:
In a dusty grimoire, the wizard Gargamel just put his hands on the formula of an evil plant: the VILEAF.
This plant produces "VILETRAP" seeds, which can attract and imprison Smurfs… but these VILETRAP plants are also a great danger for the forest, as they are TOXIC, especially for the sarsaparilla fields!

PAPA SMURF decides to ask some of his fellow Smurfs to help him find the ingredients for a super powerful antidote for all the plants sick from the VILEAF.

Thanks to the SMURFIZER, an invention from HANDY SMURF, go on an adventure to find the ingredients and free your fellow Smurfs… and save the whole village!

Key Features

– Embody 4 iconic Smurfs: the Smurfette, Hefty Smurf, Brainy Smurf and Chef Smurf in 5 different worlds
– Use the Smurfizer to heal the Vileaf contaminated plants on your way to Gargamel's hovel
– The Smurfizer will also make you jump, glide, dive, vacuum… keep a good timing to overcome every obstacle and beat your enemies
– A subtle mix of platforming and exploration gameplays: find your way through vertical levels and explore them to uncover every secrets
– Give life back to the Smurfs village by making progress and improve the Smurfizer by finding items spread around the levels
– A game for every Smurfs fan, young or old, but also for every 3D platforming game fan!
View the new trailer for The Smurfs: Mission Vileaf below.
The Smurfs: Mission Vileaf is being sold both physically and digitally on Switch in Europe. The North American launch is planned for November 16.
Leave a Reply