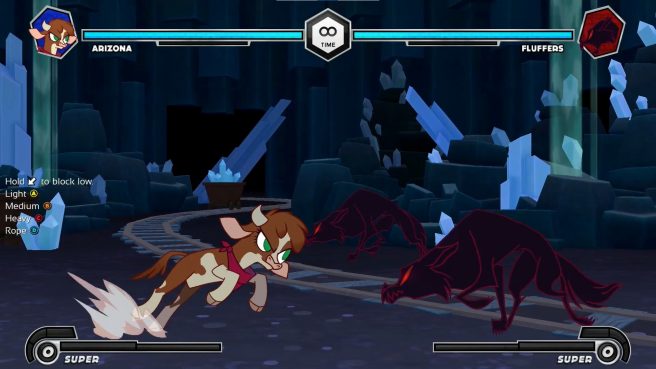 Now that the game has launched, some new gameplay has surfaced for Them's Fightin' Herds. About 28 minutes of footage are available showing off the title.
More information on the game can be found in the following overview:
Them's Fightin' Herds is a 2D fighting game featuring a cast of adorable animals designed by acclaimed cartoon producer Lauren Faust. Beneath the cute and cuddly surface, a serious fighter awaits!

Key Features

Streamlined Combat – 4-button fighting mechanics, magic system, enhanced super attack, and juggle decay to prevent infinite combos.
Story Mode – An episodic adventure filled with exploration, combat challenges, minigames, and boss fights!
Local Versus and Online Crossplay Matchmaking – Fight opponents offline or battle across the globe with GGPO's powerful rollback netcode.
Tutorial and Training Modes – Learn the ropes with combo trials and guided tutorials, practice combos in the data-rich training room, and view replays from your matches!
Pixel Lobby – Unlock accessories, customize your avatar, and explore a top-down visual lobby with other players online.
Dynamic Music System – Rockin' battle music adapts to the characters to make every match feel like a clash of champions.
Have a look at the gameplay for Them's Fightin' Herds below.
Them's Fightin' Herds is currently available on Switch. The game supports English, French, German, Italian, Japanese, Korean, Portuguese, Russian, Spanish, Simplified Chinese, and Traditional Chinese language options.
Leave a Reply