Thimbleweed Park physical pre-orders live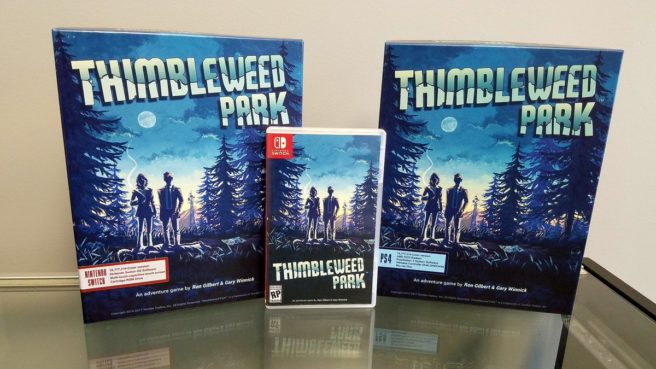 Limited Run Games' first physical release for Switch is finally here. You can pre-order the physical version of Thimbleweed Park here, and there's also a collector's edition here. Pricing is set at $34.99 and $64.99 respectively.
The collector's edition includes the following:
A classic LucasArts style big box – just like you remember
Physical game for the Nintendo Switch (Region Free)
Full-color manual
Full-color interior print on the cover sheet
Poster – a fold-out "Explore Thimbleweed Park Country" free tourist map
Newspaper – 10/13/87 edition of the Thimbleweed Nickel
3 stickers – A-Boo!, Doug (diggin'), Thimblecon
Post-it notes – the Official Thimbleweed Park Post-it Note Speck of Dust
ThimblePages – Thimbleweed County Phone Book
Note: The Switch Edition has a special sticker on the outside of the plastic wrapping that says: "Nintendo Switch"
Limited Run says that Thimbleweed Park's standard version will be an open pre-order and manufactured to demand. The company will be using the statistics from the sale to help determine demand for Switch titles and allow them to set good run sizes in the future.
If you miss out on the collector's edition, they'll be back up for pre-order extremely briefly at 3 PM PT / 6 PM ET later today.
Leave a Reply