Trials Rising – new update out now, Anniversary Event starts tomorrow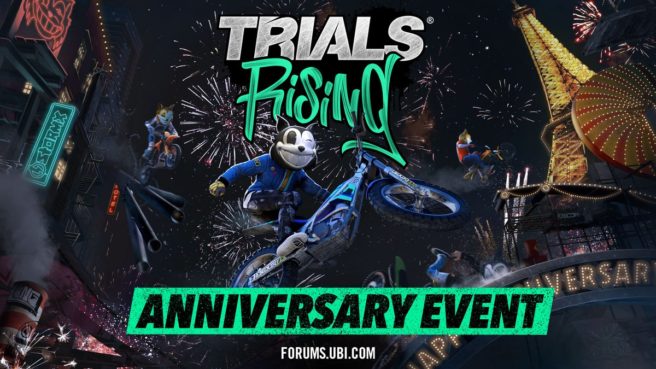 A new update for Trials Rising went live on Switch today. It includes updates for season 5 content, Jack Pattillo and Gavin Free voice overs, and more.
Below are the full patch notes:
Content

[All Platforms] Updates for season 5 content
[All Platforms] Jack Pattillo and Gavin Free voice overs added to the selection of rider voices

Ubisoft Club

[All Platforms] New weekly challenges for various Fun Bikes
[All Platforms] Fixed a bug that caused the "Why So Easy" challenge to not track progress
[All Platforms] Fixed an issue that could cause the game to not load if Ubisoft Club was undergoing maintenance

Track Central

[All Platforms] Improvements to back-end tools that manage Track Central feeds

Bundle Store

[All Platforms] Fixed a bug that failed to update item previews when browsing bundle

Offline Play

[All Platforms] Fixed an issue that could cause players to lose Gear Crates, Acorns or Coins that were earned while playing offline

Contracts

[All Platforms] Burnout contract on the track Cadillac Rancher is reset for players who accessed it before the fault limit was changed from 0 to 5
In other Trials Rising news, a new Anniversary Event kicks off tomorrow. Full details as to what's in store are included below.
This Wednesday, February 26th Trials Rising turns 1 year old. To celebrate our first anniversary the Trials team has put together a special Anniversary Event that will take place starting on Wednesday and running through March 9th. This special event will come with some familiar goals as well as some new rewards, let's see what's in store.

During the Anniversary Event, all Trials Rising players can redeem the Lynx Helmet for free through the Ubisoft Club as a special thank you from the Trials Rising team. After the event has concluded the helmet will still be available through the Ubisoft Club, redeemable for 30 Club Points.

It wouldn't be a Trials Rising event without some hidden collectibles to search for. This time around players can seek out the Golden Redlynx Emblem hidden across 10 different tracks on the Trials Rising world map. Collect all 10 emblems to unlock the exclusive Golden Lynx Helmet variant.


*Note: This image does not represent an actual location of a collectible for the Anniversary Event

Like previous events, there will also be special event Gear Crates players can earn for level ups during the event. In addition to various items from the wide selection of customizations in Trials Rising, these crates could also include 4 new anniversary helmet accessories; Birthday Cake, Birthday Hat, Redlynx Snapback & Lynx Bobblehead.

From all of us on the Trials team, a big thank you for a thrilling year of eating dirt and tasting victory. To all riders and builders, beginners to ninjas, we're so thankful you've chosen to spend some of your gaming time with us this year. Happy Anniversary!
Leave a Reply