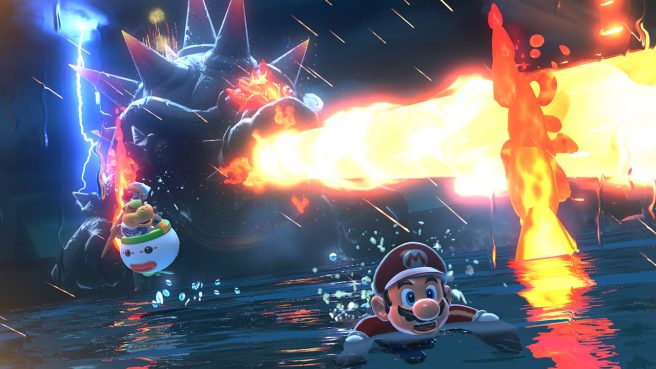 The UK sales report for February 2021 is in. Once again, Nintendo had a pretty good month.
Super Mario 3D World + Bowser's Fury was the best-selling game in the region while Switch games overall accounted for 51 percent of all games sold. Additionally, Nintendo was the top performing boxed publisher thanks to three games in the top five – Animal Crossing: New Horizons and Mario Kart 8: Deluxe being the other two.
Switch hardware sales continue to perform strongly. Thus far in 2021, console sales are up 81 percent.
Here's a look at the top twenty best-selling games of February:
| Position | Title |
| --- | --- |
| 1 | Super Mario 3D World + Bowser's Fury (Nintendo) |
| 2 | FIFA 21 (EA) |
| 3 | Animal Crossing: New Horizons (Nintendo) |
| 4 | Mario Kart 8: Deluxe (Nintendo) |
| 5 | Spider-Man: Miles Morales (Sony) |
| 6 | Call of Duty: Black Ops Cold War (Activision) |
| 7 | Minecraft: Switch Edition (Nintendo/Mojang) |
| 8 | Ring Fit Adventure (Nintendo) |
| 9 | Grand Theft Auto 5 |
| 10 | Just Dance 2021 (Ubisoft) |
| 11 | Super Mario 3D All-Stars (Nintendo) |
| 12 | Assassin's Creed: Valhalla |
| 13 | Little Nightmares 2 (Bandai Namco) |
| 14 | The Last of Us: Part 2 (Sony) |
| 15 | Super Mario Odyssey (Nintendo) |
| 16 | Persona 5: Strikers (Atlus) |
| 17 | Marvel's Avengers (Square Enix) |
| 18 | LEGO Harry Potter Collection (Warner Bros) |
| 19 | New Super Mario Bros U Deluxe (Nintendo) |
| 20 | Luigi's Mansion 3 (Nintendo) |
Leave a Reply