Ultra Kaiju Monster Rancher English version confirmed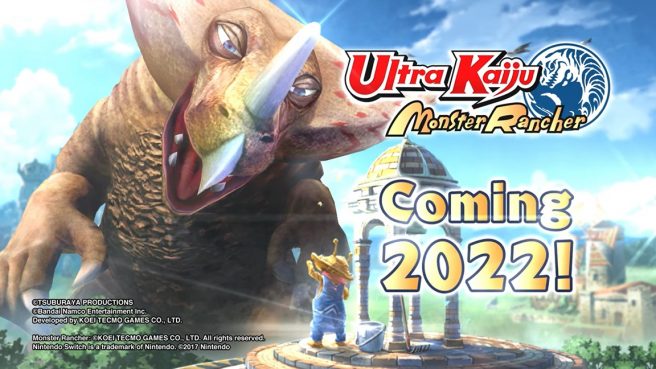 Original (6/29): Ultra Kaiju Monster Rancher will be seeing an English release, Bandai Namco has revealed.
The company's South Asian division often handles English localization of Japanese-only titles. It turns out that this will be the case once again. Thankfully, since Switch is region free, fans in the west will be able to import a copy and play through the game as they would any other title.
Ultra Kaiju Monster Rancher was announced for Switch during yesterday's Nintendo Direct Mini: Partner Showcase. As the name implies, it's a mashup of Ultra Kaiju and Monster Rancher with monster raising, battling, and more.
Here's an overview of the game:
The title is a collaboration between the Ultra Kaiju, which appears in the legendary Ultraman action programs, and the monster-breeding simulation title, Monster Rancher, which is celebrating its 25th anniversary in 2022.

Using the game system of Monster Rancher and Monster Rancher 2 as its base, the title is an Ultra Kaiju breeding simulation game, which allows you to raise your very own Ultra Kaiju – be it an Alien Baltan, Zetton, or Gomora.

Raise your own Ultra Kaiju by selecting from a range of actions each week, including feeding them, assigning them training drills, sending them on an Errantry with rival Kaiju, and going on adventures!

At the ranch where you raise your Ultra Kaiju, you will have the opportunity to observe the behavior of the Ultra Kaiju up close – an approach that the original works do not allow. In tournaments, your Kaiju will face off against rivals in battles every bit as intense as in the movies.
We have a trailer for the English version of Ultra Kaiju Monster Rancher below.
Ultra Kaiju Monster Rancher will launch later in 2022. Play-Asia will be taking pre-orders here, which can be imported to North America and Europe.
---
Update (6/30): Bandai Namco has now announced that it will release Ultra Kaiju Monster Farm in the west, meaning there'll be an official release in North America and Europe. It will be available later in 2022. However, keep in mind that it will be digital-only, so importing will be the only option for those that want a physical copy.
Update (7/29): Those that want to pre-order a physical version of Ultra Kaiju Monster Rancher can now do so via Play-Asia here. Currently Asia is the only region confirmed to have a physical release on Switch with English support. However, it's possible for any Switch owner to import and play.
Leave a Reply