Video: Mario vs. Donkey Kong Switch vs. GBA graphics comparison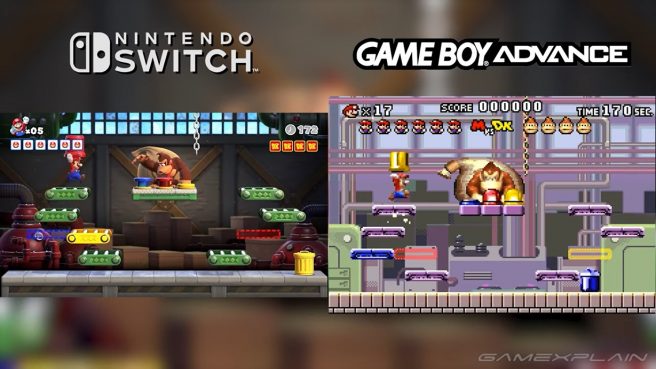 Mario vs. Donkey Kong is back on Switch with a remake of the original GBA game, and a new graphics comparison video shows how the two versions stack up. This comes courtesy of GameXplain.
Not only did the development team update the in-game visuals, but the cutscenes as well. Although gameplay thus far seems to be largely similar to the original, it's clear by a quick glance just how much the graphics have changed for the new Switch version.
Here's some information about the actual game:
Run, jump, and backflip your way to rescuing the stolen Mini-Mario toys in this puzzling twist on Mario action. Obstacles like spikes, moving platforms, and falling bricks stand in your way—put your brain to work and figure out the best way to reach the Mini-Marios. The rivalry that originally heated up on the Game Boy™ Advance system reignites on the Nintendo Switch™ system with newly-added co-op play and updated visuals.
View the Mario vs. Donkey Kong Switch vs. GBA graphics comparison below.
Graphics Comparison
Mario vs. Donkey Kong will be available for Switch on February 16, 2024.
Leave a Reply