Video: Pac-Man World Re-Pac graphics comparison (remake vs. PS1)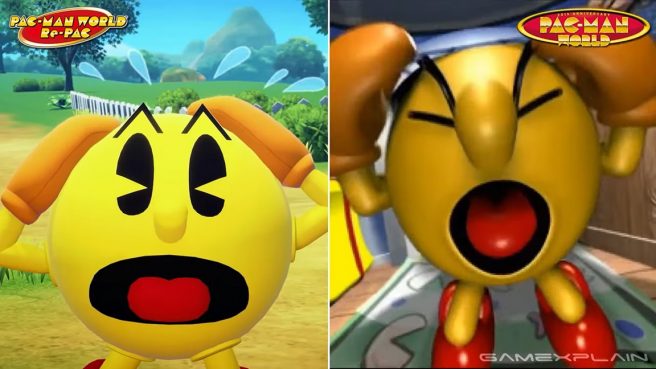 Thanks to GameXplain, we have a new graphics comparison video for Pac-Man World Re-Pac. The just-announced remake and the original PlayStation release have gone head to head.
Bandai Namco just announced Pac-Man World Re-Pac earlier today. Other then improved graphics, it will also offer smoother gameplay and a wider view of the action. More information can be found below.
Feed Your Appetite for Adventure! In Pac-Man World Re-Pac, Pac-Man arrives home on his birthday to find the Ghosts have kidnapped Pac-Man's family & friends and ruined his party! Pac-Man must set out to adventure through the six areas of Ghost Island to rescue his family and friends, and face-off against the Ghosts' boss, Toc-Man! With polished graphics, enhanced gameplay, and updated features – Pac-Man World Re-Pac is action/platforming fun for both experienced Pac-fans and new Pac-thusiasts the world over!

Key Features

A Modernized Classic – Taking Advantage of current generation hardware, this 3D action-adventure platformer is packed with smoother intuitive gameplay, updated visuals and a wider view of the action.

Multiple Modes – Adventure through the main campaign in Quest Mode, play a collection of 3D mazes in Maze Mode! Clear Quest Mode to unlock the Pac-Man game in Original Mode!

A World of Adventure – Dodge Ghosts and other baddies, solve environmental puzzles, and collect items through the 6 areas of Ghost Island each with multiple levels and unique boss battle challenge!

He's Got the Moves – More than running and chomping – Pac-Man will butt-bounce, rev-roll, hover jump, and more through the six areas while collecting Pac-Dots, fruit, and power ups!
And here's the graphics comparison for Pac-Man World Re-Pac:

Pac-Man World Re-Pac arrives for Switch on August 26, 2022.
Leave a Reply