Video: Switch OLED vs. Switch comparison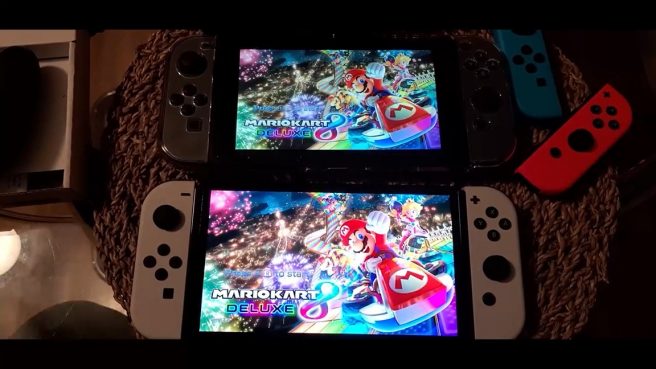 We've already seen the first unboxing for the Switch OLED, but how about a Switch OLED vs. Switch comparison video? That's now in thanks to YouTuber Nintendo Prime. Nintendo Prime was not only sent in another unboxing – this time in English on the North American side of things – but an overall look at the system as well.
One notable aspect of the video is that we're able to get a better look at the Switch OLED screen. MrZeke725, who sent the video to Nintendo Prime, shows that it can be quite a bit brighter than the original model. That was already somewhat of a given considering the nature of OLED screens, but this really shows just how much more vibrant the image can be.
Another small aspect that we'll point out concerns the dock. Aside from new air vents in the back, the cover can now pop off – on the original Switch it stays attached with a hinge. We already got a hint of this with the unboxing video, but we now have proper confirmation.
Here's the full Switch OLED vs. Switch comparison video:
The Switch OLED release is just under two weeks now. Nintendo is gearing up for a worldwide release on October 8, so you'll be able to pick one up for yourself soon – assuming you pre-ordered. It's expected that the console will be on the difficult side to pick up right away, especially given the shortages we've seen with chips for all types of technology as of late.
Leave a Reply