Voice of Cards: The Isle Dragon Roars Switch gameplay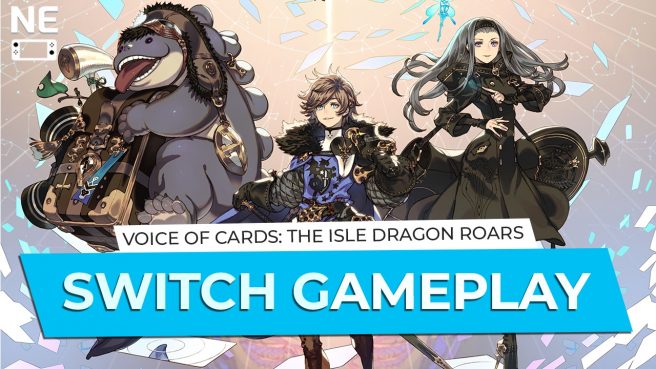 Voice of Cards: The Isle Dragon Roars lands on Switch tomorrow, and we now have gameplay from the final release. The RPG comes from creative director Yoko Taro, composer Keiichi Okabe, and character designer Kimihiko Fujisaka of NieR and Drakengard fame.
Here's some additional information about the title:
Developed by the creative team behind the beloved NieR and Drakengard series, including creative director Yoko Taro (Drakengard series, NieR series), executive producer Yosuke Saito (NieR series) and music director Keiichi Okabe (Drakengard 3, NieR series), as well as character designer Kimihiko Fujisaka (Drakengard series), this new tabletop RPG will spark players' imagination with a unique way of storytelling.

In Voice of Cards: The Isle Dragon Roars, players will venture through a story set long ago in a world shrouded in mystery, guided by the narrative voice of the Game Master (voiced in English by Todd Haberkorn). Set in a world of swords and sorcery, the game is told entirely through the medium of cards. Players will follow the protagonist as he sets off on a journey to defeat a recently reawakened Dragon, that is threatening the land and its people, in hopes of securing an immense reward. He is joined on his travels by his companions; Mar, a monster very attached to him, and Melanie, a black witch with a grudge against the Dragon. Players will need to make choices throughout the story, as well as join in turn-based field and dungeon battles that unfold on a board, in the manner of traditional tabletop RPGs.
Check out the gameplay of Voice of Cards: The Isle Dragon Roars on Switch below.
Voice of Cards: The Isle Dragon Roars can be purchased digitally for Switch via the eShop. It supports English, Japanese, French, German, Italian, and Spanish language options.
Leave a Reply