Volta-X reveals Metaverse Update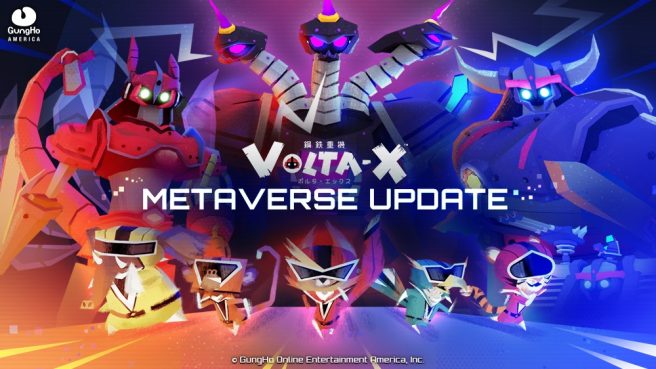 GungHo has announced a major Metaverse Update for its strategy game Volta-X. It'll come with a Metaverse Mode, new Voltas, new weapons, and more.
Below are some additional details regarding what's included:
Metaverse Mode

Offline Mode
Choose between a randomized set of loadouts
Compete in challenges to survive multiple battles
Losing means resetting progress for current run
Upgrade parts and repair Volta between battles
Metaverse explanation: This new mode takes place in a different universe than the game's online mode. Same characters and overall story, but slightly different futures. Players will discover this fact by playing through the Metaverse Mode, and how the metaverses all fit together in the world of Volta-X.

New Voltas

Transformer
Switch between Tank and Human form at will

Has a tail and can equip a third weapon with it
Special adds fire to next nine attacks

New Weapons

Shoulder-Arm part
Deals damage based off current charge

Shoulder-Arm part
Creates black hole at target room, sucking in crew in adjacent rooms

Makes healing aura effect, healing all rooms over time

Adds crew damage to all of your parts

Adds iced effect to target room

Slows repair rate
Extinguishes fires
Slows crew movement

Periodically fires if a crewmate is present inside room

Additional updates:

Changed special to give armor to all rooms

Updated the Light Punch to a dagger

Boss Volta for Metaverse Mode and Post-game Missions
Special shoots an ice beam at three target rooms

More ways for your crew to celebrate and taunt opposing Voltas

Dress your pilots in the latest fashions from the World Volta Association across all game modes

The Volta Training Room and the Crew Training Room allow you to earn experience to give to pilots and Voltas outside of battle, and you now unlock new Voltas and crew members through these rooms
The free Metaverse Update for Volta-X goes live on June 15.
Source: GungHo PR
Leave a Reply