Warframe announced for Switch, Panic Button working on the port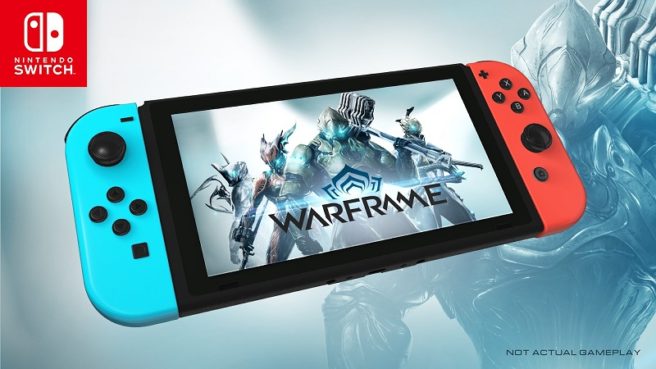 The free-to-play cooperative online action game Warframe is coming to Switch, Digital Extremes announced at TennoCon today. Panic Button, who previously ported Doom, Wolfenstein II, and Rocket League to Nintendo's console, is working on the release.
Here's the full announcement and trailer:
LONDON CONVENTION CENTRE, LONDON, ON – July 7, 2018 – At TennoCon, its third annual Warframe convention, Canadian developer and publisher Digital Extremes unveiled today Warframe, its hit cooperative online action game, is in development for Nintendo Switch. Digital Extremes has partnered with developer Panic Button (DOOM, Wolfenstein: The New Colossus, Rocket League) to bring the title to Nintendo Switch.

With more than 38 million registered players worldwide, the cooperative, free-to-play hit Warframe is a third-person online action game set in an evolving sci-fi world soon to be available on Nintendo Switch. Warframe gives players the chance to master the Warframe armor as the enigmatic Tenno, a race of ancient warriors wielding blade and gun, who are awakened from centuries of cryo-sleep by the mysterious guide, Lotus, to restore order throughout the Solar System. Warframe features more than 35 unique Warframes, hundreds of weapons and thousands of customization options, the ability to upgrade weapons armor and items using a flexible mod system, and the ability to join clans, nurture pets, and explore massive new open worlds.
Digital Extremes has not yet said when Warframe will be published on Switch.
Source: Digital Extremes PR
Leave a Reply