Warframe dev on why PC to Switch migration can only be done once, plus things to consider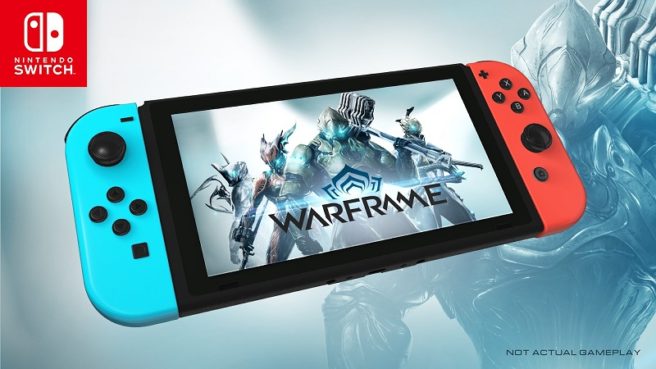 The new Switch version of Warframe allows players to move over their progress from PC, which is great if you intend to move over to Nintendo's console in the long term. You'll just need to keep in mind that the transfer can only be done once. You won't be able to move anything back to your original PC account, unfortunately.
Speaking about why this is, developer Digital Extremes explained:
"As a games as a service title, Warframe leads with PC and follow with console versions. Thus, the PC and console build versions are out of sync by about a month or so. Any migration attempt would require putting the account through a kind of update/de-update converter to amend and sync. This can lead to a lot of issues including potential loss of in-game items due to being from a later patch, data corruption, loss of player data, the inability to play until previous builds are reached, etc. In short, lots of headaches."
Meanwhile, Warframe's website also has a bunch of information about things players should consider before making the jump:
PC to Nintendo Switch account migration creates a copy of your PC account and transfers it to your Nintendo Switch account. Once migrated, the two accounts act as separate accounts.
PC to Nintendo Switch account migration can only be done once and can NOT be reversed. Be sure to use the correct Nintendo Network ID for the migration.
All existing Nintendo Switch account progress will be overwritten by your PC account.
All Platinum and goods purchased on the Nintendo eShop will be added to your new migrated account.
Any items purchased in-game with Platinum on Nintendo Switch in-game Market will be overwritten and the Platinum returned to your new migrated account; items purchased with Credits will be overwritten by your PC account.
No Platinum purchased on the PC version of Warframe will be transferred to the Nintendo Switch copy.
No Clan information from the PC is copied, all existing Nintendo Switch Clan information remains untouched.
Any items on PC that are not currently available on Nintendo Switch will appear when the Nintendo Switch is updated.
Your PC Friends List will not copy over, and your Nintendo Switch Friends List will not be overwritten
Account sharing/selling is prohibited and if violated, you risk having both accounts banned.
Your PC account will remain unaffected and unchanged after migration.
WARNING! Please note: PC accounts that are migrated to will not include many economy impacting items. Be sure to check the revised full list: here
This migration works only for PC to Nintendo Switch.
You will now be redirected to Nintendo to confirm your Nintendo Network ID.
After successful login, your PC account will be migrated.
Leave a Reply