Wii Sports Club gives you an extra 24 hour trial period with each new sports release; pricing explained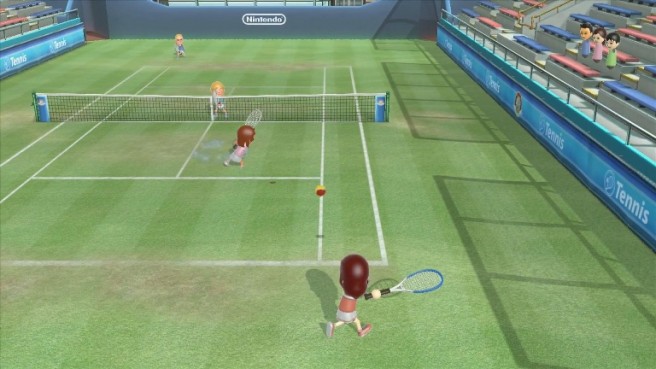 When the Wii Sports Club app makes its way to the eShop early next month, players will be able to obtain the download for free. Keep in mind though that you'll need to fork over $2 for a Day Pass or $10 for permanent ownership.
Nintendo is also including a free 24 hour trial for all Wii U owners. That means you won't have to spend any cash during the first day that you use Wii Sports Club.
Nintendo has also confirmed, per the latest Iwata Asks, that you'll receive another free 24 hours when each new sport becomes available. That means you'll earn a free 24 hours when baseball launches, another 24 hours when golf arrives, and a final 24 hours when boxing becomes available. This allows players to sample the different sports without forcing an immediate purchase.
You can read more about this, as well as an explanation of Wii Sports Club's pricing, after the break courtesy of the latest Iwata Asks.
Iwata: Instead of being a regular packaged game, Wii Sports Club will be available as download software either via a Day Pass ($1.99) which allows you to play all the available sports as much as you want for 24 hours, or a Club Pass ($9.99), which you have the option to be able to play a particular sport as long as you want. Why is that?

Shimamura: To be honest, it started from the point when we thought that since it will take some time to make all five sports and release them at once, what if we were to release them in the order they're ready. If we were to release them in a package, it would be quite some way down the road before all of them were ready.

Iwata: And besides, your president wanted to play as soon as possible. (laughs)

Shimamura: Yeah! (laughs) I do think, however, that there are a lot of benefits to this approach. And this is an online game. If we were to release all five games at once, the customers would divide up into the different games. But if we put them out like an irregular periodical, people can thoroughly enjoy each individual sport.

Iwata: So first you prepared Tennis and Bowling for people play and enjoy.

Shimamura: Yes. Usually when you download software, you go to the Nintendo eShop, pay, and then download.14. Nintendo eShop: A shopping site that can be enjoyed many ways on a Nintendo 3DS or Wii U system-from downloading games over the internet to viewing introduction videos.

Iwata: Right.

Shimamura: That's incredibly easy, but there are a certain number of people who find that to be a pain. So this time, in order to reduce that hassle, if your Wii U is connected to the internet and you have at least 1.3 gigabytes of free space, Wii Sports Club comes in to your Wii U automatically through SpotPass.15. Free space: To determine how much free space is left on a Wii U console using the Wii U GamePad, open System Settings in the Wii U Menu, select Data Management, and then press Copy/Move/Delete Data.

Iwata: I believe those who updated their Wii U console the other day received a message upon opening their system again asking if they would like to automatically receive content via SpotPass. If you answered "OK" and have 1.3 gigabytes or more of free space, Wii Sports Club will be delivered automatically.

Shimamura: That's right. One day, you suddenly have the Wii Sports Club icon, but if you couldn't play right away without paying first, that would be a hassle too, so from the moment you start the game, you can play for the first 24 hours for free.

Iwata: First we'd like people to try it, and if there's a game they like, they can then purchase it with a Club Pass.

Shimamura: That's it.

Iwata: What is the point of the other pass, the Day Pass?

Shimamura: Suppose your grandfather is coming over to visit. This way, everyone can enjoy Bowling together for a day. The price is reasonable, so even when friends get together, I hope they will feel free to make use of it.

Iwata: So Wii Sports Club comes in automatically through SpotPass. And at first there are two sports. What about after that?

Shimamura: Even without you doing anything, one day Golf will suddenly be there.

Iwata: So the first 24 hours, you can play Tennis and Bowling for free, and later, even people who were playing other games will suddenly get Golf.

Shimamura: Right. We've decided to run a special campaign when Golf comes out. When a new sport comes in, you'll be able to play past games as well, as much as you want, for 24 hours.

Iwata: So every time there's a new release, there's a free 24 hour trial period. So you don't miss out if you start early. As a matter of fact, it's a better deal if you actually start sooner.

Shimamura: That's right.

Iwata: Including the first time, there will be at least four time that can happen. Put another way, you have four days where you get to play for free.

Shimamura: That's 96 hours! (laughs)

Makino: It would be a shame not to make use of them! (laughs)
Leave a Reply