Yo-kai Watch Jam: Yo-kai Academy Y – Waiwai Gakuen Seikatsu details and screenshots – Free Events, battles, more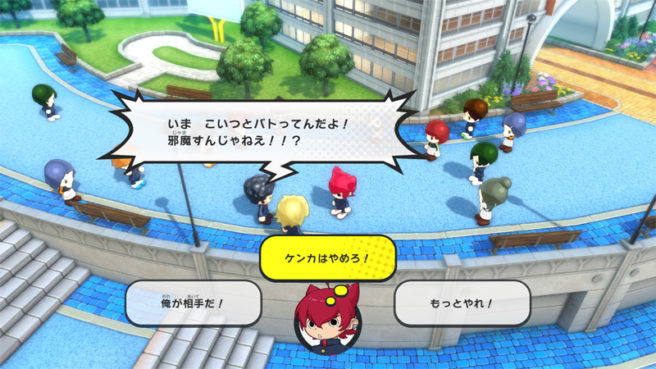 The official website for Yo-kai Watch Jam: Yo-kai Academy Y – Waiwai Gakuen Seikatsu has updated. New details and screenshots have emerged relating to Free Events, battles, and more.
Here's the full roundup, courtesy of Gematsu:
Your Very Own Academy Life RPG
– Various Free Events will occur in the academy
– Witness a love confession, run into students fighting, or even pull a prank on a couple of lovebirds
– Whether you intervene or simply pass by these sorts of events is up to you
– If you are able to resolve these events with a good outcome, the students will thank you and give you a "Like!"
Academy Life
– The YSP Club members at the heart of the story are a unique bunch of characters
– Wide variety of unique students, ranging from diligent to delinquents, tough guys, and even idols
Make Your Own Choices
– Depending on your choice, you may break into battle
A Changing Community
– The academy community will gradually change based on your actions
– Communication is important
– Getting "Likes!" is key
Various Facilities to Explore
– The Pool and Gymnasium are among the facilities
An Academy Full of Mysteries
– School occurrences are not limited to peaceful events
– Seriously bad incidents will also occur
– The cause of these incidents are the evil actions of onryo that are not of this world
Transform into a Yo-kai Hero
– Seek out the invisible onryo to begin battle
– Control the main characters, who possess the ability to transform into Heroes that utilize the power of yo-kai and onryo
– Defeat the evil onryo to solve the many mysteries of the academy
Don't Just Win! Win in Style!
– This is an action game
– Battles are highly strategic in that the timing of transformation matters and there is meaning to the order you defeat enemies
– Battles in this game have spectators (an audience)
– If you fight while looking cool and show off your best moves, you will receive "Likes!" from the other students
– You must not simply win the battle, you must win the battle in style
– If you use the wrong moves, your audience size will decrease
– Defeat the enemy in style and strike a signature pose
– Transform into a Yo-kai Hero and fight
Leave a Reply