Yooka-Laylee Switch status update, additions and changes will be included at launch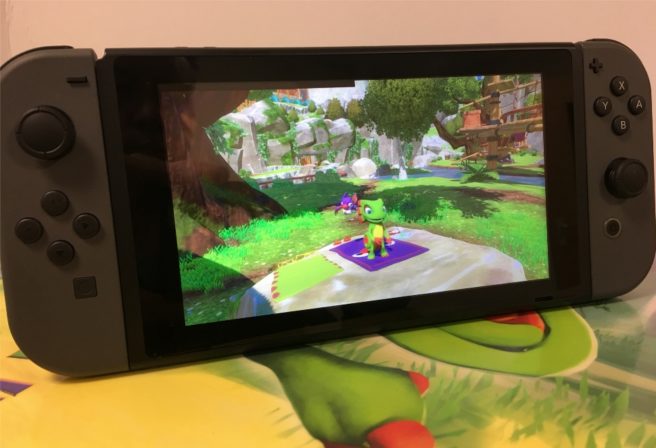 Playtonic offered a status update on the Switch version of Yooka-Laylee on its blog. The studio will be entering a testing phase on Nintendo's platform soon, and will have a release date soon after if all goes well.
Playtonic also confirmed that "all of the important additions and changes contained in our upcoming game update will be included on day one" for Switch. Also highlighted is the ability to play Yooka-Laylee on the go, of course.
Speaking of updates, Playtonic has outlined what will be included in that big update. Continue on below for the full details.
CH-CH-CH-CHANGES

In the months since launch we've been hard at work on Yooka-Laylee's first big game update, and we're pleased to confirm that once our test team is done trying to break it, it will be deploying later this month on PC, followed shortly after on consoles.

This rather plump update will add all manner of exciting gubbins, including the optional ability to skip dialogue faster, bypass cutscenes or reduce those pesky gibberish voices (which should please speedrunners), plus a brand new optional camera mode that gives players full control of where it's pointed.

We've paid close attention to your feedback and hopefully the additions we've cooked up will make Yooka-Laylee an even more enjoyable experience, whether you're playing for the first time or reptile rolling in for a second playthrough.

As promised, you can find a detailed breakdown of the updates we'll be adding in the list below. In addition to these changes, we'll also have an extensive list of bug fixes – which should resolve most common issues – when the game update is deployed in the coming weeks.

THE YOOKA-LAYLEE SPIT 'N' POLISH UPDATE

New optional camera mode with minimal assist
Pagies have added signposts to Hivory Towers to help guide players to new worlds
Design tweaks to all arcade games
Speed improvement to scrolling through Totals Menu
New option for shorter 'gibberish' voice sound FX
New speech volume option
New ability to speed through dialogue by holding Y
Cut-scenes can now be skipped with Y
New moves section added to pause menu, with image guide
Camera design improvements throughout game (less scripted cameras, door cams now appear behind player etc)
Restart option added in the pause menu during arcade games and Kartos challenges
'Sonar-able' objects now have more clear visual identity
Laser move no longer requires player to crouch
Minecart control improvements and new visual effects
Transformation control improvements
Improved first-person aiming controls
New first-person aiming control options added
Improved flying controls
When transformed, collecting butterflies now restores energy
Hunter tonic now tracks the last 30 Quills and Casino Tokens, in addition to the Health and Power Extenders. It will also whistle at the location of the closest rare collectable.
Health UI is now always visible when low
Design tweaks in various areas (Black Hole in One, Gloomy Gem Grotto etc)
New icons added for keyboard/mouse controls
Improved Rampo boss fight
Added PC Display Settings to the in-game pause menu
Performance improvements
Audio improvements
Leave a Reply