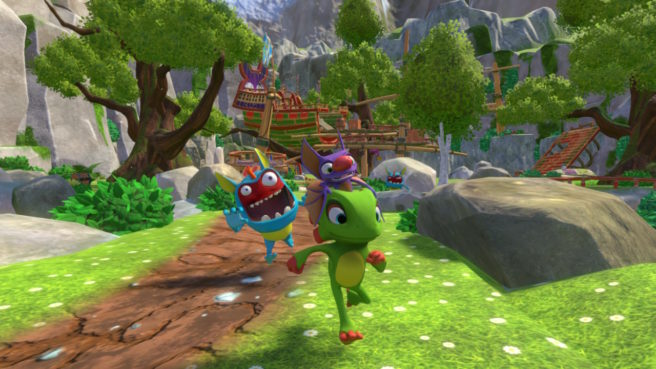 Yooka-Laylee finally launches on Switch today. How does it stack up from a technical standpoint? Digital Foundry examines that very question in a new video today.
First, Yooka-Laylee runs at 900p when in docked mode. Portal mode pulls back the resolution to 600p. Digital Foundry ultimately says that this is a good compromise.
It's not really surprising, but the Switch version isn't completely similar to something like the PS4 release. One depth of field effect has been removed, and the resolution of shadow maps has been reduced. Ambient inclusion is also gone, and lighting has been modified. Playtonic has also modified certain objects and base geometry.
Thankfully, Yooka-Laylee runs at a pretty stable 30 frames per second on Switch. You may encounter slight dips here and there, though it clears up fairly quickly. The game also appears to run slightly smoother in handheld mode.
As far as loading goes, Yooka-Laylee can take several more seconds to boot up on Switch compared to the PlayStation 4 version, particularly playing from a microSD card. Digital Foundry suggests playing from internal storage or a very fast microSD card to decrease loading.
You can watch Digital Foundry's full analysis below. Overall, the port seems to have gone over very well, and Playtonic has put in a lot of work specifically on the Switch version to make sure it runs smooth from a technical standpoint.
Leave a Reply