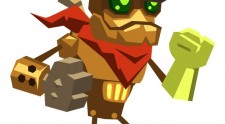 2 hours ago
By
Brian
(
@NE_Brian
)
0 Comments
13AM Games has further discussed the cameo appearances of characters in Runbow.
For those who are unaware, the game features guest stars including Shovel Knight and Rusty from SteamWorld Dig. There are several other familiar faces as well.
Interestingly, it sounds like Nintendo assisted 13AM Games in getting these cameos into Runbow. Creative director and designer Alex Rushdy spoke with Nintendo Life about how the Big N ended up getting involved, as well as the partnerships with the other indies in general:
We owe some of that gratitude to Nintendo. We came up with a wishlist of developers that we love and admire, and Nintendo helped facilitate conversations with about 90% of the list. From the get go we wanted Runbow, our first game, to be a celebration of games we love and the spirit of community that local multiplayer games inspire. We're pretty lucky to be here in Toronto where the indie scene is so supportive of one another. It was the kind of atmosphere and attitude we wanted to bring back to the industry when we got started, so we just started asking people if they wanted to join the run. The really humbling thing is when that 90% of the list started responding and saying they'd like to work with us. We feel incredibly lucky.