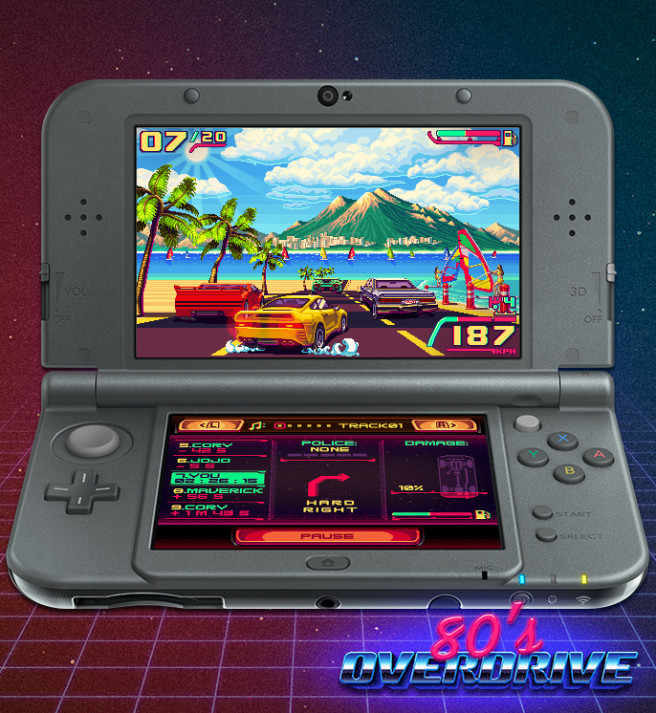 Last month, we found out about the very neat-looking 3DS game 80's Overdrive. It was clear that the game is a racer… but that's pretty much all we knew. To find out more, we reached out to the developer.
Just three team members are working on 80's Overdrive: artist/designer Rafa? Kemnitz, a programmer who also handles music and sound effects, and "a part-time hardcore game tester." Insane Code, the developer's programmer company, will be publishing.
The concept for 80's Overdrive was on Kemnitz's mind since the beginning of 2015. Insane Code asked him that summer if he had any ideas for games since he felt like working on something on his own. Kemnitz created a game design document very briefly and also made some mockups. Insane Code liked what was shown, became involved in the game design process, and shared its own ideas. 80's Overdrive started slowly, but by the end of 2015, the team put more and more effort as well of time into the project.
80's Overdrive is a racer. That much we've established. Racing (and therefore becoming the best racer) is the main goal, though side missions will also play a role. Kemnitz tells us that there are various cars in the game that you can tune as well.
You can upgrade the engine, chassis, and tyres to improve top speed, acceleration, handling and braking. It's also possible to equip your car with a police radar and nitro boost. The team is keeping side missions under wrap for the most part, but these involve having players collect something that is put along the track you are racing on. You may also have to complete the race at a requested place, damage an opponent a certain amount, and so on.
Two main modes are planned for inclusion: a career mode and time attack mode. A track editor is also in the works. This involves editing track parameters, choosing the track theme, and more. Additionally, tracks you create can be shared with others via a generated code.
We're also told that 80's Overdrive will feature at least six cars. If there's enough time, more will be added. Additionally, career mode will have at least 30 races. Eight main graphical themes for the tracks can be expected.
Sadly, there are no plans for multiplayer. There will be stereoscopic 3D support though, which should definitely make the game pop even more than it already does with its unique art style.
80's Overdrive doesn't have a release date or a planned launch window currently. However, the team hopes to finish it and have it ready this fall. But since polish comes before all else, Kemnitz says work will continue "until it meets our needs and wants."
Leave a Reply