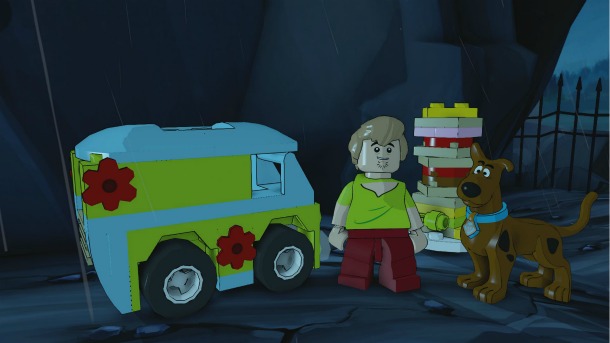 A new preview from Game Informer contains the latest details about LEGO Dimensions. You can find the information rounded up below, though you can read up on the site's full piece here as well.
– 14 different licenses
– Ghostbusters, Portal, Back to the Future, The Wizard of Oz, DC Comics, Scooby Doo, Doctor Who, Lego Chima, The Lord of the Rings, The Simpsons, The Lego Movie, Jurassic World, Midway Games, and Lego Ninjago are the featured IPs
– Warner Bros. not talking about Midway Games' representation yet
– 14 levels in total
– Each has four different areas
– TT Games wants to please children and adults
– DC Comics' Batman, The Lego Movie's Wyldstyle, and The Lord of the Rings' Gandalf star in LEGO Dimensions
– The three need to stop Lord Vortec, who is making the dimensions collide
– Plenty of humor in the game
– When Batman steps into the Wizard of Oz world, he says "We're not in Gotham anymore. It's so…colorful."
– When meeting the Wizard of Oz gang, Batman says "The Scarecrow…I knew it!"
– Can beat the full game with the Starter Pack
– Extra characters, vehicles, weapons can be purchased
– This also opens up additional content in the levels.
– TT Games teased that you may see ghosts flying around a level and need the Ghostbusters to take them out
– You can use Scooby to dig and open up a new are
– Basic gameplay of collecting studs, building and rebuilding within the world, and switching between characters to get past obstacles remains in tact
– Use Batman's grapple hook to tear down big obstacles
– Drive the Batmobile to run over poppies (flowers that put characters to sleep if they're near them)
– When fighting the Wicked Witch of the West, throw the batarang to injure her while she flies through the air
– More emphasis on using the plastic LEGO Gateway outside of the game to avoid obstacles
– Ex: when the Wicked Witch casts a magic spell to lock you in position, the LEGO Gateway flashes red, save for one white safe area; physically move the figure over to it to break the spell
– The team didn't want the pad to just be a spawning device
– Every vehicle has three different forms
– Need to build and rebuild vehicles throughout the adventure to get by
– Starter Packs: $99.99, contains Batman, Wyldstyle, Gandalf, Batmobile, and Lego Gateway
– Level Packs: $29.99, contains an additional new mission-based game level along with a minifigure, a vehicle, and a weapon
– Team Packs: $24.99, provide two minifigures and two vehicles or weapons, all with their own unique abilities
– Fun Packs: $14.99, provide a new minifigure and a vehicle or weapon
LEGO Dimensions is coming to Wii U on September 27.
Leave a Reply