Level-5 says Layton's Mystery Journey is the same on 3DS and mobile, talks new protagonist Katrielle and Switch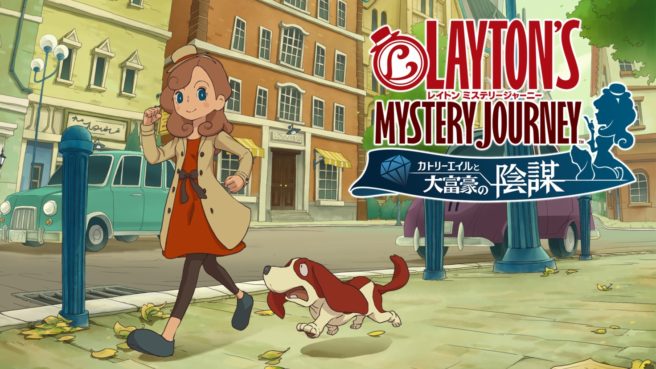 MCV recently chatted with Level-5 Abby's director of games marketing Lucy Pozniak. Pozniak spoke about the upcoming Layton's Mystery Journey as well as Switch.
First, about the new star Katrielle, Pozniak noted:
"We have a new hero, [Layton's daughter] Katrielle, who's opening up her detective agency. In addition, whereas previous titles have had bigger, more overarching story puzzles or a main mystery to solve, this one is broken into 12 chapters and it's about solving different mysteries within those chapters."
Layton's Mystery Journey won't just be on 3DS. The game is actually debuting on mobile first – July 20 worldwide. However, the experience will ultimately be the same regardless of the device you're playing on, Pozniak said.
"Whether you play it on Android, iOS or 3DS, it doesn't matter, you're going to have the same experience. What we've done is that we've made sure there's absolutely no disparity between the players, so everyone is getting the same content and the same story. Even with pricing and everything else, we're very confident about how the fans will perceive it.

"We're not just going to go with mobile like everyone else has gone with mobile and leave the 3DS or the console player behind. The key for us is to make sure we have the same integrity, the same kind of fan experience across all platforms. Mobile just gives us an opportunity now to really reach out to a bigger mass audience, because [before] we were limited to a very [particular kind of ] DS or 3DS title. So now we have the opportunity to talk to more people and find out what really works best for each platform."
Pozniak also had a few words to say about Katrielle, the first time the main series is featuring a new protagonist:
"Kat's a fun character. She's smart and intelligent and witty and funny, so she's engaging on an intellectual level, but she also has a tomboy side and she's down with getting her hands dirty, discovering a mystery and getting into a fight, or whatever it might be. I don't think there's any part of her that makes it a barrier for men to play or for women to play.

"She's a great conduit between multiple ages and genders and everything in between, so we're very excited for her to be the hero of this game. It's a nice way to reinvent the title and keep it relevant and current, and instil that intelligence is important. Muscles are great, but at the end of the day, she gets it done without beating somebody up."
Finally, MCV closed out its discussion with some talk about Switch. Regarding the console, Pozniak had this to say:
"We've looked at [Switch]. There are some challenges that we fully understand at this time. One of the things we understand is that the Switch has a portability factor, which is really good for this title. However, the challenge for us is the fact that once you dock your system it's no longer a handheld, so it's just understanding that [particular issue].

"In addition, we know there are so many 3DS owners who have played Layton previously, so we want to make sure those people who already have devices in their hands have something to play. So specifically the design at this time is for 3DS, so those players can play some more, and for new players who don't have a 3DS system, that's why we've co-developed for smartphones, so they can jump on this time. But in the future, we're definitely looking into adapting for the Switch. We love the Switch and we're trying to put as much on there as we can, but right now, this title is for 3DS and smart devices only."
Leave a Reply