Links from Zelda: A Link Between Worlds, Tri Force Heroes could have been swapped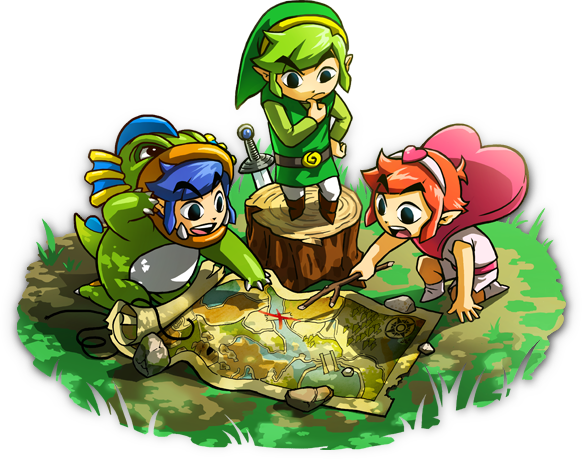 Toon Link began to be associated with portable Zelda games since Four Swords. The character was then featured in both Phantom Hourglass and Spirit Tracks on DS, before going on to be included in Tri Force Heroes on 3DS.
Interestingly, Nintendo even considered Toon Link for A Link Between Worlds. Designer Yoshiki Haruhana revealed this nugget in the new Zelda: Art & Artifacts book, stating that there was "a long debate" about which Link should be in the game. Some members of the team carried the opinion that it should be Toon Link since it was a handheld game, while others felt it should be the original from A Link to the Past, which was ultimately selected.
That wasn't all though. Originally, Link from A Link Between Worlds (and A Link to the Past) was originally going to be used in Tri Force Heroes. This suddenly changed when series producer Eiji Aonuma declared one day that Toon Link would be used instead.
Haruhana: For this title there was a difference of opinion on which Link to use. Since it was for the Nintendo 3DS, some felt that it should be Toon Link, since it's a title for a portable game system, but others said that this was a sequel to A Link to the Past, so it should be regular Link. We had a long debate over it.

The people who played the first game on SNES may have had an issue if the main character was Toon Link…

Haruhana: Exactly. Since A Link to the Past was the original, it only made sense to go in that direction. And since it's been twenty-two years since the previous title, the expectation about the art style became what it is. I found myself thinking that the Zelda series certainly has a bit of everything, which keeps it interesting.

So it isn't necessary for the main character to be Toon Link just because the game is on a portable system.

Haruhana: Yeah, that's how it worked out.

But for Tri Force Heroes, the main character went back to being Toon Link.

Haruhana: Actually, we had our share of trouble for this title as well. For a while into production, the main character was the Link used in A Link Between Worlds. But one day, Aonuma made an announcement: "We're going with Toon Link!"

All: [laughter]
Leave a Reply