Lost Reavers is being made by young devs, Bandai Namco trying to reach new audience on Wii U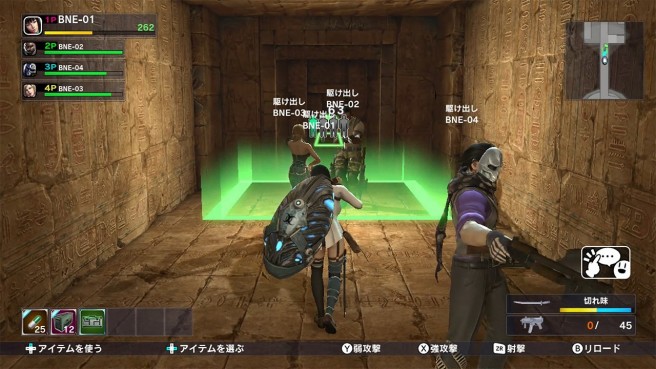 The most recent of Famitsu has a two-page feature on Lost Reavers, Bandai Namco's upcoming free-to-start title for Wii U. There's more about the game in general as well as a brief interview with producers Takashi Otani and Katsuhiro Harada.
First, here's an overview of the different characters:
Sayuri: "The Short Range and Long Range All-Rounder"

Using a katana for short-ranged attacks and a submachine gun for shooting, it is easy to use her and is thus recommended for first-time players.

Dwayne: "A Firepower Oriented Power Type"

At the core of this character is his assault rifle, though there is the possibility of using many other smaller firearms. When using his powerful bazooka, the exhilaration one feels is outstanding.

Shadow Stalker: "Tricky and Versatile in Attacking"

Fights wielding both a melee weapon and a shotgun. Has a characteristic combo that consists of him reloading while attacking. For advanced players.

Victoria

Rather than rapid-fire damage, she is a skilled shooter who focuses more on dealing damage in one shot. Recommended for those who enjoy shooting games.
For those who haven't heard, Lost Reavers is a cooperative action game. The goal is to work together, take on challenges, and gain treasure from missions.
For characters whose specialty resides in shooting, they can freely switch their point of view using a multi-view action. By switching the viewpoint to fit the situation, you can fight advantageously. Each character also has a "skill tree" that, as the characters grow and learn, helps make missions easier. Weapons can be strengthened at the Workshop to become more powerful as well.
The game contains a variety of areas such as research labs. There are also gimmicks such as unlocking locks embedded in walls.
Of course, dangerous enemies will try to stop you along the way. If you make it to the boss, defeating it garners additional rewards.
In Lost Reavers, Otani says there is emphasis on "bringing treasure while cooperating with partners". It's vital to protect partners when they carry treasure or manipulate stage gimmicks as they are defenseless. You can clear the objective even if you don't slay a boss, but rewards will be smaller.
Harada mentioned that one goal of the project was to gather young developers and give them the experience of going through game creation. Developers in their twenties and thirties don't have much experience and are often just suddenly thrown into some series project. It's these kinds of people who are working on Lost Reavers.
Also from Otani, he states that the base of the game is free in order to get many people play it casually. There are few free-to-start games on Wii U, so they are trying to reach a new audience.
A beta test for Lost Reavers was held in Japan a few months ago. Various elements have been adjusted based on feedback from the event, Otani said.
Lost Reavers is due out this winter. Development is 97 percent complete.
Leave a Reply