Monster Hunter Stories details: JP release date, amiibo, other bonus costumes
Posted on May 26, 2016 by Jake in 3DS, News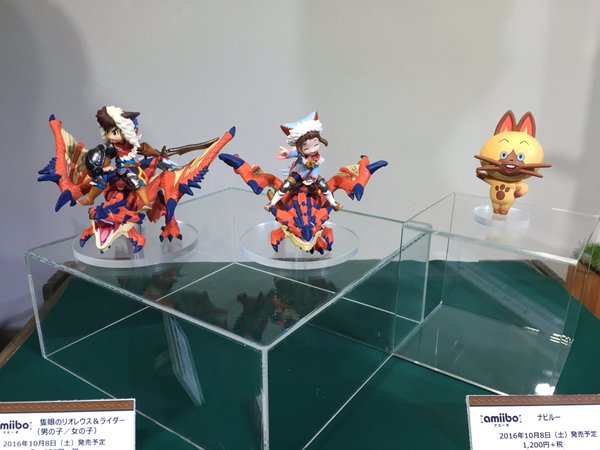 Update: There is now a picture of the actual amiibo, seen now as the feature image and in the gallery.
Capcom announced that Monster Hunter Stories, the 3DS Monster Hunter spinoff, will be releasing in Japan on October 8th. Also, there will be three brand-new amiibo launched alongside the game. Two of these are of the protagonist riding the One-Eyed Rathalos, with one amiibo for each gender, while the third is of the player's partner, Nabiru. These amiibo will grant players unique monsters in-game. Furthermore, Capcom plans to release a second set of amiibo after release. There are also two special costumes for Nabiru, with a Rathalos costume coming in limited versions of the game, and a Dinovaldo costume unlocked by having Monster Hunter Generations save data on your 3DS. This save data will also unlock a one-hand sword for the protagonist.
But that's not all! Capcom also showed off two costumes, one for the protagonist based on popular musician DAIGO, and the other a costume for Nabiru based on Sanrio character Pompomporin. You can see pictures of all this content below.
The official site will also update on June 2nd, so there may be more new information to look forward to in the future. There is still no word on a western release.
Leave a Reply