More details on Yo-kai Watch 3's second week sales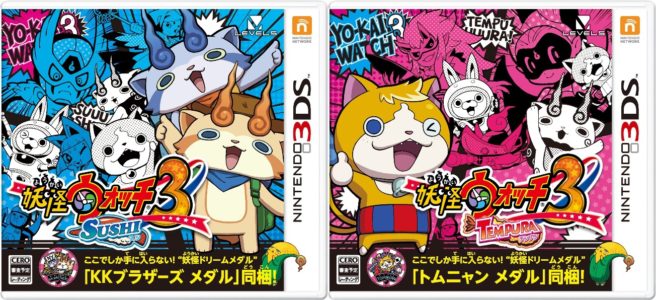 Yo-kai Watch 3 started out by selling 630,000 copies in its first week. In its second week, the game moved another 169,000 units. Media Create reports that the split was 85,000 copies for the Sushi version and 83,000 copies for Tempura.
Lifetime sales of Yo-kai Watch 3 now sit at around 800,000 copies. However, the sell-through rate hasn't met the initial shipping stock (of about one million copies). When considering additional shipments, currently the RPG is estimated to have over 500,000 copies in market stock, and retailers have said that a lot of copies have been left over. On the other hand, Yo-kai Watch Busters managed to almost fully sell through its initial shipping numbers by moving a total of 915,000 copies in this same time frame (first two weeks) last year, and reached a million on its third week.
Considering the selling pace of Yo-kai Watch 3, Media Create will be looking to see whether it can achieve a total of one million copies sold by the Obon holidays. That period will take place during the middle of next month.
Leave a Reply