Nintendo at Hyper Japan Festival 2016 – Zelda: BotW stage demos, full lineup, much more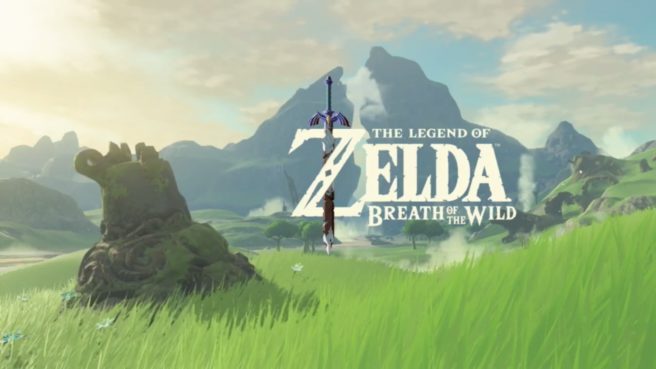 Nintendo has shared more details about its plans for Hyper Japan Festival 2016, which is taking place next weekend.
First, it's been announced that The Legend of Zelda: Breath of the Wild will be shown live for the first time in the UK. Nintendo will have daily on-stage demos for the anticipated game, plus live gameplay sessions of Monster Hunter Generations, Dragon Quest VII, and more.
In terms of playable titles, here's what Nintendo will have on display:
Yo-kai Watch
Monster Hunter Generations
Dragon Quest VII
Fire Emblem Fates: Birthright
Fire Emblem Fates: Conquest
Fire Emblem Fates: Revelation
Hyrule Warriors: Legends
Bravely Second: End Layer
Final Fantasy Explorers
Project X Zone 2
Rhythm Paradise Megamix
Kirby: Planet Robobot
Phoenix Wright: Ace Attorney- Spirit of Justice
Zero Escape: Zero Time Dilemma
Azure Striker Gunvolt 2
The Battle Cats POP!
Mighty No. 9
Tokyo Mirage Sessions #FE
Axiom Verge
Animal Crossing: Happy Home Designer
Splatoon
Pokkén Tournament
Pokémon X & Pokémon Y
Pokémon Omega Ruby & Pokémon Alpha Sapphire
Pokémon Super Mystery Dungeon
Pokémon Red, Pokémon Blue & Pokémon Yellow
That's just the start of what Nintendo has planned for Hyper Japan Festival 2016. Head past the break for more details on what's in store.
Nintendo's booth at HYPER JAPAN Festival 2016 is set to offer a full line-up of on-stage activities for attendees to watch, and a packed roster of gameplay opportunities to experience throughout the three-day event. Those unable to attend will also get the opportunity to feel part of the action, as Nintendo UK will livestream a selection of on-stage content for viewers to watch at home via the Nintendo UK Twitch Channel on Saturday 16th July between 10.00 and 15.00.

Comedian and long-time gamer, Imran Yusuf, will also be heading to HYPER JAPAN, taking to the Nintendo stage in a bid to complete the very best fan-created Super Mario Maker courses. Nintendo UK is today challenging would-be level designers to take inspiration from HYPER JAPAN, as the courses created and submitted that are most in line with the tone of the festival will be pre-selected for Imran to play live on-stage with Nintendo UK, streaming the session live via Nintendo UK's Twitch channel. Those keen to enter their courses simply need to follow Nintendo's social channels and share their course ID in the comments section of the relevant post on Facebook and Twitter. All selected courses will also be made available for all Super Mario Maker players to try via the Super Mario Maker Bookmark website following HYPER JAPAN.

There will be plenty more on-stage activities taking place at HYPER JAPAN as Nintendo will host and live stream via the Nintendo UK Twitch channel a number of on-stage tournaments which attendees can get involved in, game demonstrations for Wii U and Nintendo 3DS games both out now and coming soon as well as other special activities. Some on-stage highlights will include DRAGON QUEST VII: Fragments of the Forgotten Past, Rhythm Paradise Megamix, Splatoon and Pokkén Tournament. Nintendo will also be bringing to the stage special activities for Super Smash Bros. for Wii U, so be sure to bring your trained amiibo along to take part. Visit the Nintendo website for a full schedule of Nintendo's on-stage line-up for HYPER JAPAN.

Visitors to this year's event are encouraged to bring their Nintendo 3DS family system with them to exchange data with other attendees via StreetPass, as well as download demos of many of the games featured on the Nintendo booth. There will also be a special Animal Crossing: Happy Home Designer amiibo card swap area, where visitors can trade with others to help grow their collection.

Presenting a prime opportunity to get creative with photography, Nintendo's booth will also feature a unique amiibo photo stand, giving fans the chance to strike a pose like their favourite amiibo. Miitomo enthusiasts will have a chance to showcase their Miifoto skills by sharing their favourite snaps from the event to Nintendo UK's Twitter channel during the event using #Miifoto #HyperJapan. The most creative and compelling Miifotos will be in with a chance to win a special Tomodachi Life prize bundle.

The Nintendo Official UK Store is also heading to Hyper Japan with a dedicated presence on the Nintendo booth, ensuring visitors are able to pick up a whole host of goodies. There will be plenty of special offers available across many product lines, exclusively available to those attending Hyper Japan. To celebrate the launch of Monster Hunter Generations™ the Nintendo Official UK Store will also be offering a 50% discount* on Monster Hunter figurines if you have a photo taken at this area of the Nintendo booth mirroring the monster's pose. There will be plenty of other offers available including 50% off selected T-Shirts while stocks last, so be sure to grab yourself a great deal. Those attending Hyper Japan will also be eligible to get their hands on a special coupon code that will be distributed in the Splatoon area of the Nintendo booth. The code, which is valid until 21st July, will provide an exclusive 40% discount on the regular price of Splatoon when purchased via Nintendo eShop on the console or the official Nintendo website.**

If you haven't taken part already, don't forget that Nintendo UK are currently hosting two competitions. The first is a special YO-KAI WATCH® Fan Art Contest, challenging fans to share physical or digital recreations of their favourite Yo-kai to win a YO-KAI WATCH® prize and have their masterpiece displayed on the Nintendo booth at HYPER JAPAN. Additionally, a Fire Emblem Cosplay Contest will give HYPER JAPAN attendees the chance to wow cosplay fans by taking to the catwalk on the main stage in the Nintendo area on July 17th. The top outfit will receive a host of Fire Emblem prizes.

From enjoying gameplay experiences, watching and taking part in on-stage activities, entering competitions, completing challenges and getting hold of special content, fans can enjoy a truly unique and entertaining experience at HYPER JAPAN Festival 2016 as Olympia London opens its doors from Friday 15th July until Sunday 17th July 2016.
Source: Nintendo PR
Leave a Reply