Pre-order Fire Emblem Fates at GameStop, get three character keychains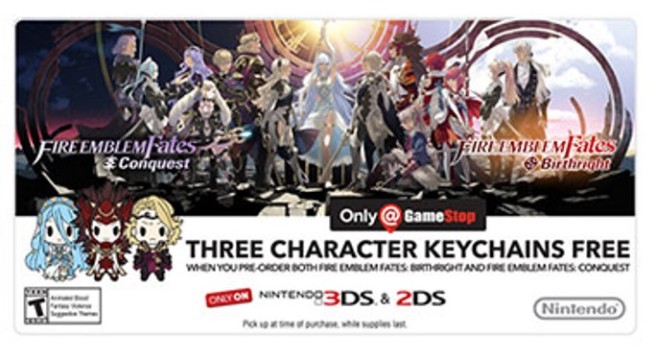 Update (1/7): Bumped to the top. It's not listed on the product page, but GameStop indicated on Twitter that this offer applies to the Fire Emblem Fates Special Edition as well.
@Excalibur0123 Quick answer – yes, at time of pickup 🙂

— GameStop (@GameStop) January 7, 2016
---
Original (1/6): GameStop is planning a special pre-order bonus for Fire Emblem Fates. If you reserve the game, you'll receive three character keychains. This is valid both in-store and online.
I've included a shot from GameStop's ad showing the keychains above. Because the image was rather tiny, I increased the size so it'd be more visible. That naturally made it blurry!
Leave a Reply