Rumor: Original 3DS to be discounted to $140, 3DS XL Mario Kart 7 bundle next week
The original 3DS will allegedly be getting another price drop soon. Nintendo will adjust the MSRP to $139.99 in about two weeks, new rumors suggest. The system currently retails for $169.99.
Next week, you'll be able to grab the 3DS for $10 cheaper than the upcoming price drop. Target will apparently sell the handheld for $129.99.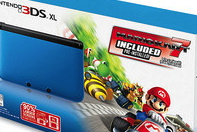 Meanwhile, a 3DS XL bundle featuring Mario Kart 7 will also be available next week – at least at Target – for $199.99.
Leave a Reply