Shin Megami Tensei IV Final gets first review in Famitsu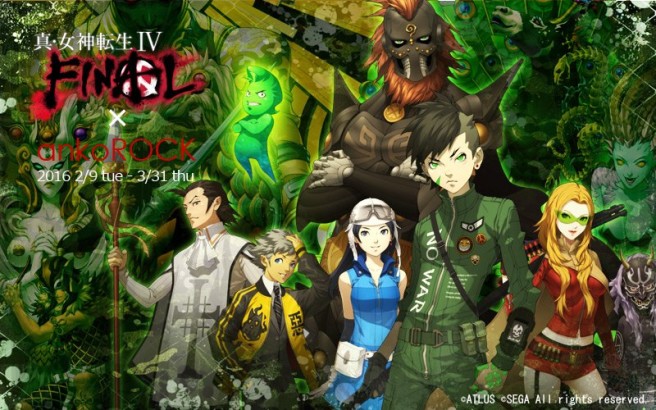 In a recent issue, Famitsu published one of the first Shin Megami Tensei IV Final reviews. From four editors the RPG received scores of "9", "9", "8", and "9". That amounts to a total of 35 out of 40.
I do think we'll be seeing Shin Megami Tensei IV Final in the west eventually. But since it'll be awhile before that happens, we've gone ahead and translated Famitsu's full review. It'll give you some idea as to how it's being received in Japan thus far from one outlet. Overall, the consensus seems to be that it's easier to get into that its predecessor.
Head past the break for our full translation.
Reviewer 1 – 9

This game is packed with the very distinctive charm of the series, like a unique view of the world, fights due to multiple forces, demons having conversations, and Demon Fusion. Things like the degree of difficulty can be chosen from the beginning, and this makes it so much easier to play than the previous game. "Press Turn Battles" and "Smirk" elements have been brought back, and they are still rich in regards to strategy. And character designs by Masayuki Doi look fantastic.

Reviewer 2 – 9

While seeing the same world as the previous game, it was very interesting to get a new story from a different point of view. There are many fine improvements, and I am so happy to say that it's a lot easier to play than the last one. Your partner's assist attacks allow a wide line of tactics in addition to giving a great sense of fighting together. The standard in difficulty balance is a bit harsh and does not leave much room for error, but things like Scout skill and Demon Fusion make training elements to be as addictive as ever.

Reviewer 3 – 8

Although new forces have been added and there is a lot to learn, even players who haven't experienced the previous game can jump right in. Even so, you can appreciate the story more if you know what has happened previously, because the game tells what happens to familiar characters afterwards and there are elements of viewing the story from the angles of different forces. Various places in the menus and system have been improved, but it's still quite easy to wander and get lost. It is nice that the navigation and connections between areas are much easier to grasp. Negotiations with demons and the conversations patterns are rich and so much fun. It is also good how you can easily test everything about fusions.

Reviewer 4 – 9

A devastated Tokyo is the setting, and a view of the world with a sense of realism is one of the game's attractions. I think beginners can jump into this Shin Megami Tensei game and enjoy it, as this one helps ease you in much better. The demon conversation messages have been renewed, such as the fusion system being restored, and the system improvement to make it easier to play sublime compared to the last game, making me so happy. Each element of battling, collecting, training, and fusions are combined well. It is also firmly made and a worthy speedrun.
---
Thanks for making it to the end of this post! If you use any of this translation, please be sure to properly source Nintendo Everything. Do not copy its full contents.
Leave a Reply