Story of Seasons: Good Friends of Three Villages details – areas, characters, systems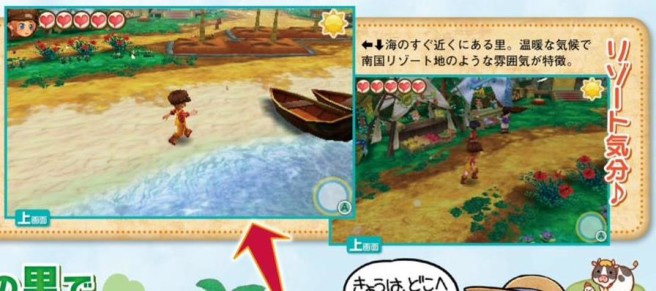 In the latest issue of Famitsu, Marvelous provides the first details on Story of Seasons: Good Friends of Three Villages. We learn about the different villages, characters, and systems.
As previously mentioned, Story of Seasons: Good Friends of Three Villages features Lulucoco Town, Tsuyukusa Village, and Wes Town. Each one surrounds the player's farm and has its own culture and lifestyle. You can freely go to the different villages and enjoy communication with their inhabitants. Each village also has its own bride and groom candidates.
Below are details about the three locations:
Lulucoco Village
– Tropical scent
– This is located right nearby a sea
– Has warm temperatures
– Specialty is having an atmosphere like a tropical resort
– Exotic village which also has rather mysterious ruins
– Features an abundance of tropical fruits and marine products
– The inhabitants have colorful skins and wear tribal clothing
Tsuyukusa Village
– The Japanese heart is right here
– A very nostalgic Japanese-style village
– The building architectures are very Japanese, including the arched bridge
– Excels in farms and paddies due to the abundance of water sources
– The inhabitants mainly wear kimonos
– The entire village has a calm atmosphere
Wes Town
– The Country Style
– An obviously Western-style village
– The buildings are made of wood, and it used to flourish as a mining town in the past
– Many of the villagers are lively and cheerful
– Start off in this town
Wes Town is the main focus in Famitsu's coverage. We have information about various inhabitants, including Frank, Megan, Noel, Miranda, and the bridge/groom candidates.
Frank is the player's grandfather who loves nature. He acts as the farming instructor in this game. Megan is a grandmother who likes to talk much, and is adored by the town inhabitants. It's not said whether Frank and Megan are a couple or not. Also introduced is Miranda, a woman who runs the general store. She's meddlesome and always into trending things. Noel is Miranda's only daughter and has a personality similar to her mother; cheerful, energetic, and not shy.
Lichette is Wes Town's bride candidate: She's a cheerful girl who works at Wes Town's flower shop. Because Lichette wasn't raised too freely, she's not too familiar with the ways of society. Her hobby is knitting and handicrafts.
Finally, Wayne is the groom candidate. Wayne works at Wes Town's post office. He has good manners, but he likes to tease people, which is why he's misunderstood to be not sincere.
Other than the previously mentioned features of changing gender, skin color, hair color and facial expressions, Famitsu also mentions that there are "types" which shows what the player is skilled at, thus it might also affect a change in lifestyle.
Story of Seasons: Good Friends of Three Villages also has a selection of many kinds of pets. If you get along with them, they might share presents with you. As usual there will be pet contests in villages, too. You can also choose a "Soul Pet" that allows it to stay inside your house.
"Farm Circle" is a feature we touched on earlier this week. With this new system, by placing certain buildings or facilities in the farm, there are effects like improved production. For example, placing a scarecrow will fend off harmful animals, therefore increasing crop yield.
Last but not least, Famitsu confirms that players can now partake in part-time jobs. Each village will have an intermediary agent. When you speak to them, you can take on jobs such as tending someone else's animals.
Story of Seasons: Good Friends of Three Villages launched early summer in Japan.
Leave a Reply