Two Tribes on RIVE's Copilot Mode for Switch, will be 1080p / 60 FPS, release date "soon", may bring over older games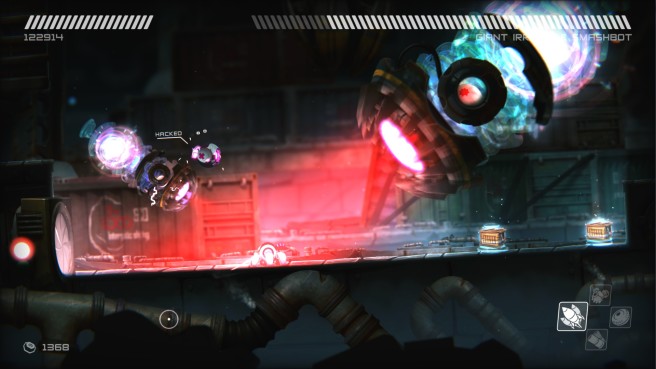 After cancelling the game for Wii U, Two Tribes is bringing Rive to Switch. The studio is working with Engine Software on the port.
One of the features planned for RIVE on Switch is a Copilot Mode. Two Tribes co-founder / lead engineer Martijn Reuvers explained to Nintendo Life how it will work:
Copilot Mode is, as the name suggests, all about controlling Roughshot's Spider Tank together. Think of Han and Luke manning the gun turrets in the Millennium Falcon, while Chewy is steering the vessel. Although the Spider Tank has just one gun turret.

This fits the available buttons on the Joy-Cons perfectly, and even allows the moving player to jump with the A button… an oft-heard request from players that simply isn't possible in RIVE's normal gameplay modes because you need, really need, your right thumb on the right stick to shoot while jumping.

As soon as you die (and this happens a lot in RIVE), the move and attack roles are reversed, so you both get to try either jumping or shooting through intense situations. This turns out to be a lot of fun!
RIVE is currently running at 60 frames per second "aside from a few problematic busy areas, which we're working on right now." When the team was working on Wii U, "the (relatively simple) introduction scene didn't even run at 60fps." Wii U also had less memory, meaning Two Tribes couldn't pre-cache all data and would require loading times. Reuvers further said that Switch is "faster than the Wii U and fast enough to run RIVE, while on Wii U it would've been very hard without reverting to 30fps."
Two Tribes is confident that RIVE will run at a rock solid 60 frames per second. It will have a 1080p resolution when docked and 720p when playing in handheld more.
A release date for RIVE on Switch will be announced "soon." If it does well, Two Tribes may consider some of its older titles for the system.
Leave a Reply