XSEED confirms Corpse Party 3DS localization, out this summer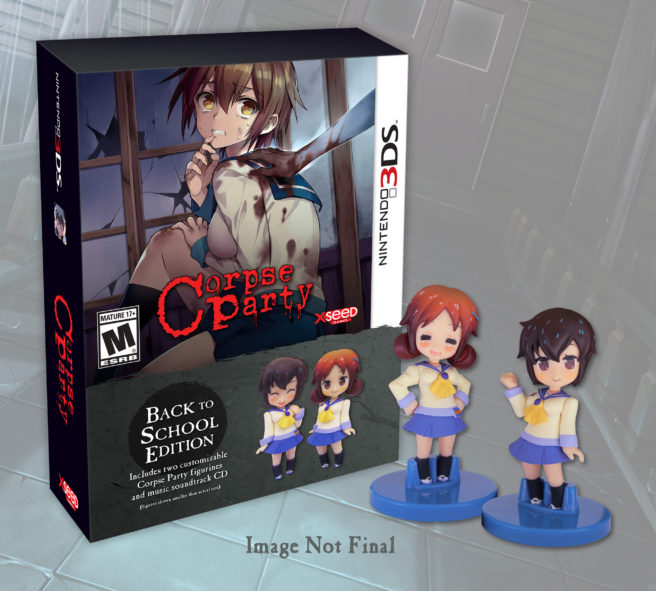 Shin Megami Tensei IV: Apocalypse isn't today's only 3DS localization announcement. Following a leak from the ESRB, XSEED has now officially confirmed plans to bring Corpse Party to North America.
Corpse Party will be sold at retail as a "Back to School" edition for $49.99 and digitally for $29.99. It'll come with miniature figurines of Naomi Nakashima and Seiko Shinohara as well as a soundtrack CD featuring nearly 80 minutes of music from the game not previously featured on the 'Songs of the Dead' compilation, including three tracks exclusive to this version.
XSEED will launch Corpse Party on 3DS this summer. Take a look at a brief teaser trailer and an overview below.
Remastered from the 2011 PSP game, the Nintendo 3DS rendition of Corpse Party will feature redrawn, high-resolution character sprites, newly arranged music tracks, and 3D art stills, as well as four new Extra Chapters exclusive to this version that provide insight into lesser-shown characters and plot elements previously left unexplained. This title has been rated "M for Mature" by the ESRB.

In Corpse Party, players take control of a group of Japanese high school students who inadvertently engage in a pagan ritual and find themselves inexplicably transported into a whole other space: an inescapable echo of a long-since demolished school building where a series of gruesome murders once took place. They must now evade the grasp of the tortured souls who roam the halls of the doomed Heavenly Host Elementary School, lest they join the ranks of the dead themselves.

Corpse Party is presented using crisp 2D sprite graphics in a classic 16-bit style, brought to life with gruesome and horribly detailed hand-drawn anime-style portraits and art stills featuring vividly descriptive text, and binaural 3D audio in the Nintendo 3DS iteration, players' minds are prone to wander, providing a uniquely engrossing horror experience. Put on a pair of headphones and Corpse Party becomes even more terrifying, with creepy background noises that bring the terror of the game's environment directly to players' ears.

As players advance through Corpse Party, they will strive to avoid the game's more than 20 "wrong ends," in which tragedy takes over and one or more characters suffer a grim demise. Whether buried alive, forced to swallow scissors or cannibalized by a friend, wrong ends are often as disturbing as they are morbidly intriguing. To advance through the game, players must reach the one true ending in each of the game's five chapters to unlock the next leg of the journey. The game features several "true" endings depending on how many characters survive the journey through the haunted school – and at Heavenly Host Elementary, survival is no easy task.
Source: XSEED PR
Leave a Reply