1-2-Switch producer says the game wasn't planned to be part of WarioWare, why it isn't pre-installed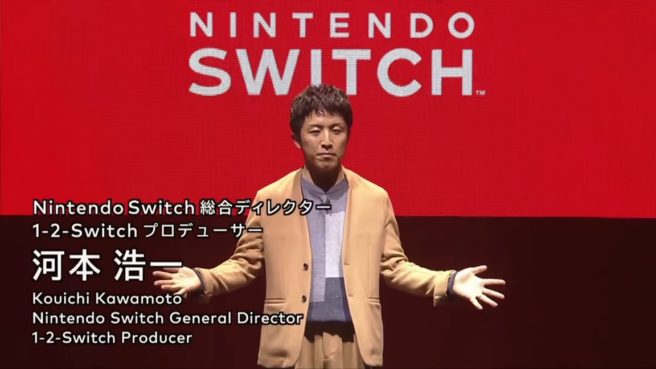 Within the past week or so, new 1-2-Switch interviews with producer Kouichi Kawamoto appeared in both in Famitsu and on Japanese website 4Gamer. While nothing too major was mentioned, there were a few excerpts we thought were worth highlighting.
First, on 4Gamer, the site started out by talking about how 1-2-Switch feels reminiscent of WarioWare. Kawamoto responded to this and later directly commented on why the game isn't pre-installed.
Below is the relevant exchange between the two sides:
The first game I created after joining Nintendo was the Sound Bomber mini-game included in 64DD title Mario Artist: Polygon Studio. Sound Bomber became foundation for WarioWare, so I am credited as being responsible for coming up with it.

Does that mean 1-2-Switch is based on WarioWare?

No, it doesn't (laughs). I happened to come up with something completely new this time. […]

Did you ever consider making a game like 1-2-Switch as part of the WarioWare series?

WarioWare throws new games with different rules at you one after another, and they are fairly difficult games. If you played them without looking at screen, they would be extremely difficult. Furthermore, the players themselves are the characters in 1-2-Switch, performing on their 'stage' in front of the screen, so there isn't really any room for the Wario characters. Because of that, I decided not to use Warioware from the outset. I made something new.

When people hear "Nintendo", they usually think of Mario and Zelda, but Nintendo's mini-game collections are actually quite good too.

Thank you. I hope that includes the games I've directed, like Brain Age and StreetPass Mii Plaza, or ones I've produced, like Nintendo Badge Arcade and Miitopia. I tend to be in charge of somewhat unusual games that can be played in short bursts.

[…]

1-2-Switch makes full use of the Nintendo Switch's features, so I think it would have been nice to have it pre-installed on the system.

I appreciate you saying so, but it would have required using storage space to install it, and the software development costs would also have had to be added to cost of the system. The games are quite peculiar, and most of them are meant for two players. So if it came pre-installed, some people wouldn't boot it up even once….

Right, there would probably be people who would be hesitant to try it. Some people are adamant about playing by themselves.

There are plenty of games that those type of players would enjoy in the Nintendo Switch library, so I think the system should be as bare as possible.

[…]

I can imagine it being useful in various situations. Like in today's households, where parents and their children don't communicate as often.

Actually, I have a daughter approaching middle school, and lately I've felt a distance forming…

Maybe if parents play 1-2-Switch together with children in those phases, they can improve their relationships.

They will!…is what I believe. But since we are not allowed to bring home games that are still in development, I haven't been able to test it myself yet. (laugh)

Hopefully it helps!
Finally, we have this last bit from Famitsu:
And finally, please give a message to our readers who are looking forward to the game.

I made it in the hopes that people with lots of friends will play it together, or people will use it to break the ice with people they're interested in, or bring it to parties to play. Even though members of the development staff have many friends, I, the producer, do not have very many…

Oh, umm…I'm sure you have plenty…

No… I really don't (dry laugh). I made it so that even people like me can enjoy it, with people you barely know or with family members. You just need a few people.
---
Thanks to Gessenkou and iYakku for their help with this translation!
---
Thanks for making it to the end of this post! If you use any of this translation, please be sure to properly source Nintendo Everything. Do not copy its full contents.
Leave a Reply