A Hat in Time – Nyakuza Metro DLC announced for Switch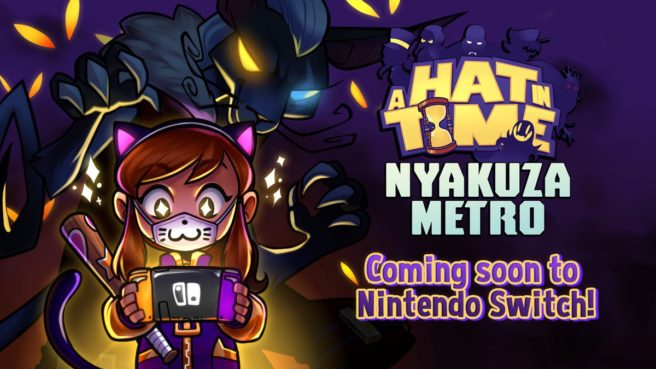 The 3D platformer A Hat in Time will finally be available for Switch this Friday. Seal the Deal DLC was already confirmed, but Gears for Breakfast has now confirmed that the A Hat in Time is in the works for Nintendo's console as well. A specific release window wasn't provided.
The Nyakuza Metro DLC contains a new chapter with new Time Pieces, sticker system, and more. We have additional information and a trailer below.
Welcome to the deep underground Nyakuza Metro! It's the perfect place for a little lying, a little cheating… a little stealing. Join the Nyakuza and become mad rich – joining a gang never turned out bad, right?

Nyakuza Metro introduces an all-new chapter with 10 new Time Pieces, a new sticker system, new flairs, new dyes, a new weapon, a new purple Time Rift and more!

– 10 New Time Pieces!
– Stickers! Stickers can be attached to your weapon, used with the Camera Badge, or as emotes!
– A new weapon: The Baseball Bat!
– A new Purple Time Rift: Rumbi Factory!
– New flairs, including the Nyakuza Mask, Burger Cap, Artistic Vision, and more!
– 2 new camera filters!
– 3 new badges!
– Over 20 new dyes, including Wireframe, Pizza Time and more!
Leave a Reply