Among Us new update launches March 31, includes The Airship map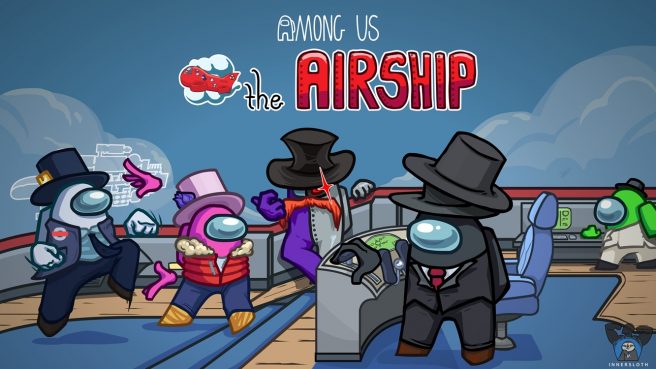 Among Us will be receiving a major update this month and it will include The Airship map, Innersloth has announced. It will go live on March 31.
Innersloth says that the update will have new tasks, the ability to pick the room you start in, ladders, and a basic account system for moderation. New free hats have also been teased.
Innersloth also shared the following development insight today:
General

I'm going to try and do my best to explain everything in as few words as possible, but please remember there's a lot of nuance to any and all situations!

Why did we not release a map ASAP?

I explained this a bit in our last dev log, but Among Us' popularity was something no one expected, and quite late into 2020 too. (Thank you for that!!) We had already considered the game done and had moved onto something else. And while it may seem odd things took a few months, it's quite normal in game development, especially for a team of our size. When you work in an official capacity and need to handle various business needs, there are more legal considerations that need to be put into it versus if it were just a side project or mod!

Additionally, creating a map and updates isn't as simple as creating one aspect of the game and throwing it onto the PC. Because our game is cross-platform, it means EVERYTHING needs to work on as many devices as possible. (Every kind of smartphone and its various versions, console, etc.) You may have noticed most modifications to the game focus on just PC, as that makes development much easier.

When a game becomes unexpectedly popular it's great, but it brings a whole slew of other problems we were extremely new to, which I'll outline below. That being said, we're extremely grateful for all of the success we've found. The explanation of problems is just that – an explanation! Not a complaint. Thank you for letting us be a part of your lives.

Maintenance

Multiplayer online games have a lot that goes into them – especially one with as many players as Among Us. Time gets taken away from other tasks because we'll need to put out a fire somewhere else e.g. when servers go down, we get reports of hackers, etc. Because it means it often affects millions of players, these are high priority items we need to immediately switch to fixing. The more people playing, the more things can go wrong sometimes!
Leave a Reply