An overview of Zelda: A Link Between Worlds' initial Japanese sales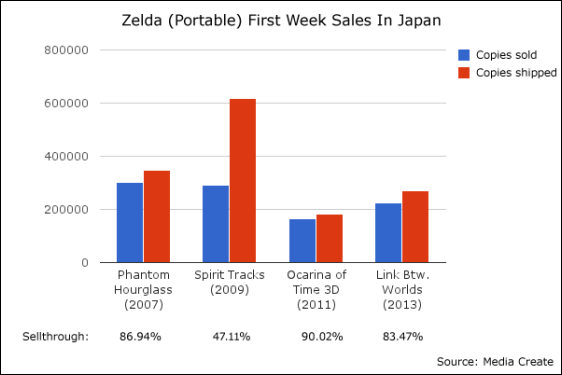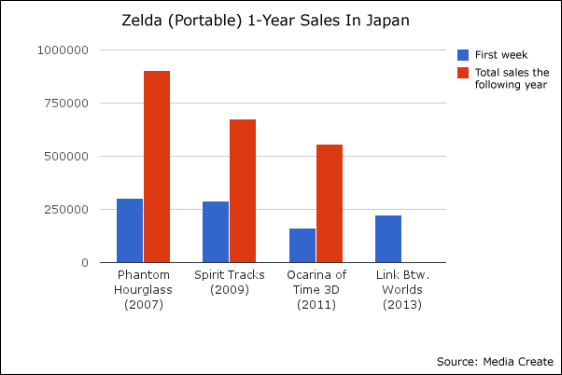 In its first week on the Japanese market, The Legend of Zelda: A Link Between Worlds sold roughly 224,000 copies. This resulted in an 83.47 percent sell-through rate for Nintendo.
A Link Between Worlds climbed to a total of 297,215 units by the end of its second week. The game's shipment sell-through rate also rose to 96.84 percent.
While Zelda: A Link Between Worlds' performance is down compared to Phantom Hourglass and Spirit Tracks, Nintendo has intelligently handled the game's shipments. Spirit Tracks saw an initial shipment of 600,000 copies, but only ended up selling through half that amount for its release. Ocarina of Time, like A Link Between Worlds, was handled much better as the first shipment was slightly more than 182,000 copies, which created a 90.02 percent sell-through rate.
A Link Between Worlds will need steady sales in order to catch up to Phantom Hourglass, one of the best-selling portable Zeldas in recent times. Total sales for the DS title hit 900,000 units in less than two years. Ocarina of Time also sold rather well with sales hitting 560,000 copies by the end of 2012.
Leave a Reply