Animal Crossing Direct live streams, live blog (11/2/16)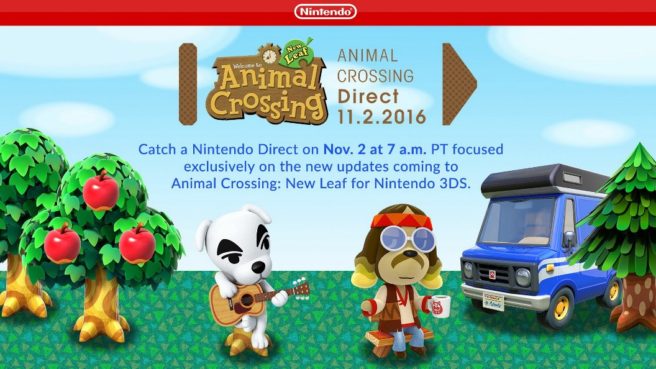 Today's Animal Crossing Direct will begin an hour from now (7 AM PT / 10 AM ET / 2 PM in the UK / 3 PM in Europe). We have the North American, European, and Japanese broadcasts below. We'll also be maintaining a live blog after the break.
The presentation will be mostly focused on Animal Crossing: New Leaf. However, in the Japanese version, Nintendo will have something to say about Miitopia as well.
Live streams
Live blog
– Presented by Hisashi Nogami
– Wisp is back
– Rub the lamp and he'll come out, granting you a special wish
– Then you need to grab an amiibo
– New series of amiibo with new 50 villagers
– Tap the amiibo card, and Wisp will let the new villager enter your village
– Can visit Harvey's Campground at any time
– Two RVs here
– Back RV is for special friends
– Front one is for villagers invited with amiibo
– Can obtain items you see inside RVs
– Vivian: into fashion
– Ike: big into cars
– Can invite a villager to move in full time
– Can use amiibo figures to invite special guests like Tom Nook over to the camp grounds, will have special items to sell
– amiibo figures will give you a items that will let you play games
– Games: Desert Island Escape, Animal Crossing Puzzle League
– amiibo camera featured included
– Change pose, resize them
– Wii U console lets you play Desert Island Escape
– Earn new currency MEOW coupons; need them to shop at the campground or buy from RVs
– Secret Storeroom: add to your home that gives you an invisible closet you can access anywhere
– Can organize furniture on the touch screen
– Can order giant furniture if you have Happy Home Designer save data
– Can turn chat off
– Can sell your old town for bells
– Tap Callie/Marie amiibo to get Cece and Viche
– Tap Zelda amiibo to get Wolf Link, Medli, Ganon, Epona
– Breath of the Wild outfit
Leave a Reply