ARK: Ultimate Survival Edition update out now (version 2.0.5), patch notes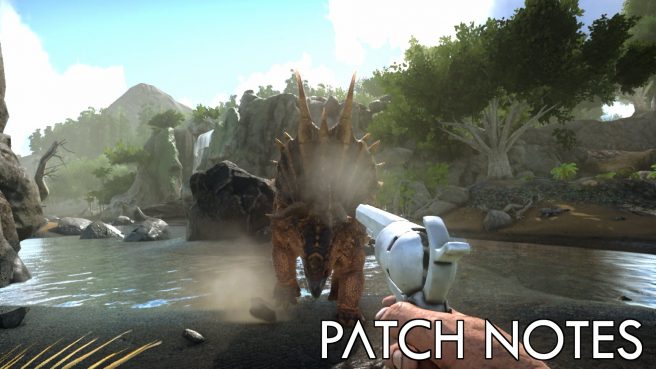 Studio Wildcard and Grove Street Games have issued the latest update for ARK: Ultimate Survival Edition, version 2.0.5.
The update is highlighted by the support for the upcoming Ragnarok DLC. There are other highlights as well, including non-dedicated sessions, improved melee combat performance, and more.
The full patch notes for the ARK: Ultimate Survival Edition version 2.0.5 update are as follows:
Added support for upcoming Ragnarok DLC
Non-dedicated sessions now available
Fixed broken state in which wild dinos would stop moving online
Fixed creature spawning issues
Fixed broken anti-mesh logic incorrectly killing players on entry to pearl caves online
Fixed days not saving online
Significantly improved melee combat performance
Fixed some creatures being lost during ascension
Fixed crash that would occur when Network Error dialog was present
Fixed beehives floating on the island
Fixed tree sap taps
Fixed Aberration exterior lighting
Fixed multiplayer movement issues with parachute and zip line
Improved underwater post process visuals
Improved Aberration cave lighting
Fixed overly bright tooltip icons
Improved Baby Reaper vfx
Fixed Reaper King aggro issues
Fixed Reaper impregnation issues whilst riding a creature
Fixed Rockwell trophy visual issues
Fixed Manticore trophy colors to be accurate
Fixed lighting in Rockwell boss arena
Fixed Rockwell tentacle animation issues
Fixed issue in which tamed Megalosaurus would stand whilst asleep
Fixed Megatherium to preserve sitting state on save/load
Fixed many ground seams and collision issues on all maps
Fixed bad movement on flyers if player logged out whilst mounted online
Fixed flickering mating icons online
Fixed animation hitches online opening map or cycling tools
Fixed creatures in caves to be untamable by design
Fixed Cryopod tool tip not displaying stats correctly
Fixed visuals on "She Who Waits" explorer notes
Fixed ballista turret visualizing ammo when it had none
Cheat fly no longer interrupted when colliding with water
All players on Switch can download the version 2.0.5 update for ARK: Ultimate Survival Edition now.
Leave a Reply