ARMS devs – early prototypes, story of people getting extendable arms, learning from Mario Kart, Twintelle's popularity, more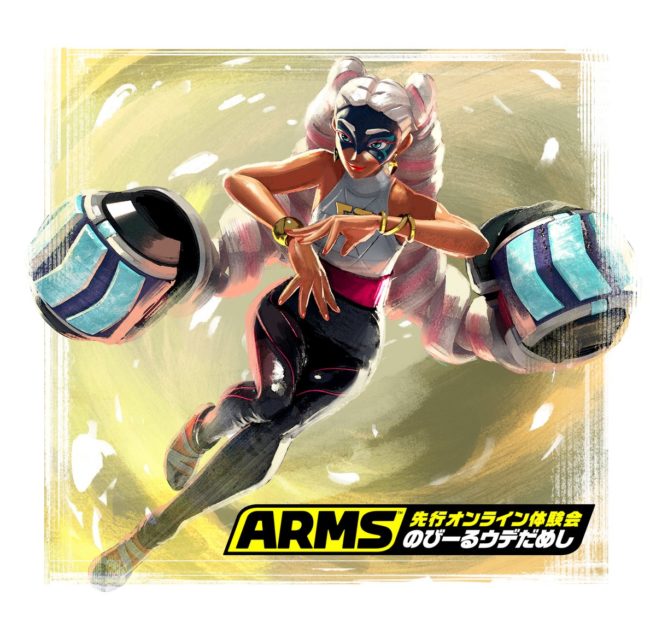 Just ahead of ARMS' launch, Game Informer spoke with producer Kosuke Yabuki and art director Masaaki Ishikawa. The two developers tackled various subjects. The two were asked about the game's early prototypes, whether it started on Wii U, the story of how people get extendable ARMS, Twintelle's popularity, and more.
We've picked out some of the interesting excerpts from the interview below. You can access the entire discussion here.
On what the earliest versions of ARMS looked like…
Kosuke Yabuki: Arms is one of the many prototypes of things. We're always trying to make new things at Nintendo, and this is one of them. Initially it was a much more simple game with shorter characters who had devices attached to the ends of their hands, but even at the beginning, the camera was still behind the back of the character and that hasn't changed. We were thinking when making a fighting game, it's really important, the distance you have between you and your opponent, but it might be difficult to see that difference when the camera's behind the back of the player. So, with these extending arms, we were working hard to see if there's anything we could do – any sort of new ideas that we could do – to make that easier. And we officially kicked off the development of this project when we were looking at new techniques and strategies we could have with these extending arms.
On whether ARMS started out as a Wii U game…
Yabuki: Well, we were working on it back when the Wii U was out, but we can't really say how long the development went. All we can say is that we've been working really hard on it.
On any connections to Punch-Out!!…
Yabuki: This is a wholly new game. There's really no connection to Punch-Out!! and actually not even boxing itself.
On whether it was always the plan to use new characters…
Yabuki: Yeah, we really just thought it would be totally new characters from the beginning. You know, Mario and Link can't extend their arms in this way, so we thought new characters would be easier for players to get used to for this type of fighting.
On why some people in the world of ARMS have extendable arms…
Ishikawa: Kosuke Yabuki mentioned earlier, but in the initial prototype, the characters had devices that sort of extended from their elbows, but as we were developing the game, we really thought it felt better for the behind-the-back camera perspective to have the arms extend directly from the base of the shoulder, and that's how all the characters in this game ended up with arms that extend from there.
On the story behind people having extendable arms…
Ishikawa: Some parts of this are still secret. I can't really tell you everything, but what I can say is it's not something that they can elect for – not something that you would get surgery for, to replace your arms. It's possible that some characters have had this since birth and it's also possible that, for some characters it just suddenly…one day, they woke and were different. So, there are actually, really several different possibilities that could be the cause for this. So, aside from Helix, all the other characters like Spring Man, Ribbon Girl, and Min Min – these are just regular people with extendable arms and not cyborgs or anything like that.
On whether it's scary for these characters to wake up and have extendable arms…
Ishikawa: Well, I'm sure I'd be surprised and I may even be a little panicked, but in the world of Arms, the Arms Fighting League is super popular, and so for them, while they may be surprised, they also would probably be pretty excited that they can now enter that fighting league. So the fact that they would be excited to be able to enter the fighting league just goes to show how popular and how many people – the fans that you see in the stages – how excited they would be to become one of these fighters. It's a super big honor to be one of those fighters.
Yabuki: Outside of the Fighting League, it would also be super convenient for your daily life to have those extendable arms.
On any surprise lessons Yabuki brought over from Mario Kart…
Yabuki: For Mario Kart Wii we had the steering wheel attachment so players could use motion controls, but you could also play with the motion controller and more traditional controls so that really offered players the freedom to play however they wanted to in Mario Kart. For Arms, we kind of carried this lesson over. Motion controls are a big feature of this game, but players can still use pro controllers or traditional controls like in handheld and choose the way that they would like to play. That's one of the lessons that we learned from Mario Kart.
The motion controls in Arms actually allow for more fine controls; the two gyros allow for some fine adjustment of left and right on the punches that you can kind of use it to curve your punch. So when it really comes down to it, when you really don't want to lose, we really feel that motion control offers more precise control than traditional controls. So, unlike any game before, we feel that the motion controls in Arms really allow for deeper technique and strategy than really any game before it with motion controls.
On Twintelle's popularity…
Yabuki: We weren't really expecting the fans to be so taken with her, so that was a very pleasant surprise! And like I just mentioned, she has that really strong build to her and that seems to be something that the community has picked up on so I'm glad that we were able to create this new character design.
On how ARMS is just 2.2GB and Nintendo making small games…
Yabuki: A lot of effort and technique goes into limiting the size of the games and we really think it improves the user experience by shortening the load times and making it quicker to get into a game. And we take into account the animations as well and make those fit into the smaller size to make it more enjoyable for the user's experience.
Ishikawa: In development, we discuss all sorts of detailed elements, but we also talk about the first things that the players are gonna notice and we focus our resources there, so I'm really happy when people appreciate that and we create good art as a result.
Leave a Reply