Atelier Ryza 2: Lost Legends & the Secret Fairy confirmed for western release in January 2021, latest details and screenshots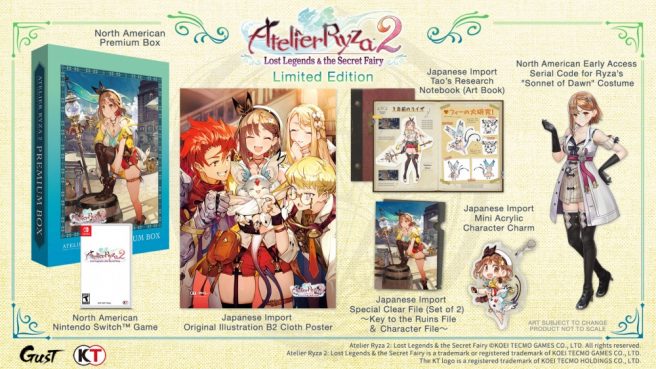 Koei Tecmo has provided an update on Atelier Ryza 2: Lost Legends & the Secret Fairy. The game will launch on January 26, 2021 in North America and January 29, 2021 in Europe, the company announced today.
We also have a fresh set of details, including:
In Atelier Ryza 2: Lost Legends & the Secret Fairy, Ryza is not only joined by returning fan-favorites like Lent Marslink and Tao Mongarten, she also meets a number of new characters who will help her throughout her adventure. Inside the Academy District café, Ryza meets a young woman by the name of Zephine Baudouin. Zephine manages the request bulletin board inside the café, and the bulletin board becomes a key part of Ryza's day-to-day exploits – it's used by citizens of the Royal Capital to post jobs ranging from delivering materials to defeating monsters – and as Ryza completes these tasks, she will be compensated with monetary rewards, materials, and even Skill Points. Other intriguing characters inside the Royal Capital include the talented blacksmith and engraver, Dennis Holland; shopkeeper and former acquaintance from Kurken Island, Romy Vogel; and farmworker Cassandra Cappelli, whose father owns an obscene amount of fruitful land inside the Royal Capital's Farming District.

As Ryza and friends embark on their journey, they encounter enemies and monsters throughout the land, and madness and mayhem ensue. Parties now include 3 battle members and 1 sub-member, and all heroes will now be aided in the game's exhilarating real-time tactics battles thanks to the ability to build up Action Points and Core Charge. As party members build up Action Points, characters will be able to unleash multiple Skills in a row via a Skill Chain. By using the Skill Chain ability, the power of all skills increases as well as the amount of Core Charge gained in each attack – the function needed in order to also use items – enabling you to unleash devastating attacks like throwing waves of bombs! In addition, by using skills your gauge fills up and after it exceeds a specific amount, your Tactics Level increases. As your Tactics Level increases, the amount of times your regular attacks hit also increases, and Action Points begin to build up quicker. If your Tactics Level reaches the max, you can activate a special technique: The Fatal Drive!

Along with the new gameplay and character details, Koei TEcmo also revealed that gamers who pre-order physical versions of Atelier Ryza 2: Lost Legends & the Secret Fairy at select retailers will receive the "Beware of Puni!" and "Blue Puni Costume" t-shirt DLC for Ryza! In addition, gamers who purchase a physical or digital copy of Atelier Ryza 2: Lost Legends & the Secret Fairy during the first two weeks of release will receive an Early Purchase Bonus code for the Summer Fashion Costume Set. Gamers who have save data from Atelier Ryza: Ever Darkness & the Secret Hideout will also be able to unlock the Classic Costume Set, including outfits for Ryza and her friends from the previous title.

Fans of the Atelier series will also be able to get their hands on a delightful Limited Edition of Atelier Ryza 2: Lost Legends & the Secret Fairy, exclusively available through the NISA Online Store. This must-have version of the game contains an art book, deluxe cloth poster, mini acrylic charm, Japanese clear file folders, and an exclusive DLC costume all packaged into a beautiful collector's box.
We have the first English screenshots for Atelier Ryza 2: Lost Legends & the Secret Fairy below.
Source: Koei Tecmo PR
Leave a Reply