Bethesda on Switch releases, porting Doom, sales expectations, wants to continue support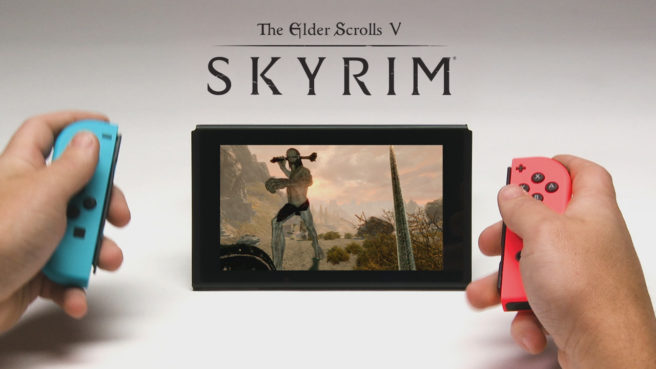 It's rather surprising, but Bethesda has been one of Switch's strongest supporters thus far. Unlike what we saw with previous console generations, the company is already preparing a few games for Nintendo's system. The Elder Scrolls V: Skyrim launches in November, followed by Doom this holiday, and Wolfenstein II in 2018.
Nintendo fans will be happy to hear that this could be just the start of Bethesda's plans for Switch. In an interview with GamesBeat, vice president of marketing and communications Pete Hines noted that they don't intend to just release these games and stop. "We want this to be the start of a relationship that we build with Nintendo and Nintendo fans," Hines noted.
More comments from Hines about Switch are included below. You can read the full interview on GamesBeat here.
On supporting Switch…
Hines: We haven't done anything on a Nintendo platform in forever. Breath of the Wild being the runaway colossal hit that it is, there's certainly some belief like, "Hey, if you like open-world RPGs where you can explore and do what you want, Skyrim might be a good fit for you." I don't know what the exact size is, but some number of people who own Switches have never played Skyrim before. It's a new thing for them, and for folks who have played the game, the ability to take it on the road—you're going on a trip or commuting to work, it's a great time.
And Doom is a completely different kind of game from what everyone else is doing. It's a very visceral, violent, bloody, fun first-person shooter. We're excited. They both have their place in what's going on with that platform.
On whether it was difficult getting Doom running on Switch…
Hines: Probably no more so than any other platform. Every time you go to a new platform, there's always going to be challenges in terms of how they do this or do that differently from the PC. But we feel like we have something that represents the game and looks really good. Some games may look as good as Doom on the Switch, but I'm not sure that anything looks better. It's an impressive-looking game and it's still really fun to play.
On expectations for Bethesda games on Switch…
Hines: Certainly we think they can really well. What that means respective to the installed base or to other stuff—we're not coming from the same place with Skyrim in terms of, "Everyone on this platform already knows the Elder Scrolls series." There's some amount of—this is new to folks. We have to introduce it to them and explain what it is. It's the same with Doom. There is some crossover, but there's also a new audience that isn't sure what these games are. They haven't played a Doom or a Skyrim. There is some education there as far as, "Here's why these games are cool and fun."
On conversations with Nintendo…
Hines: Honestly, it's been a long series of them. They came out to see us before they unveiled the Switch to show us what the hardware was like, what they were doing with it. We've been in constant conversation with them, and not just about the two games we have now, but about our whole approach to the platform going forward – what we can do, best practices, what things are a good fit, what they're excited about in what we're doing. We're obviously excited about these two games, but it's not as if we're going to just do these two games and that's it. We want this to be the start of a relationship that we build with Nintendo and Nintendo fans.
Leave a Reply