Bravely Default II details, new trailer – Rimedahl, characters, jobs, sub-quests, Bind & Divide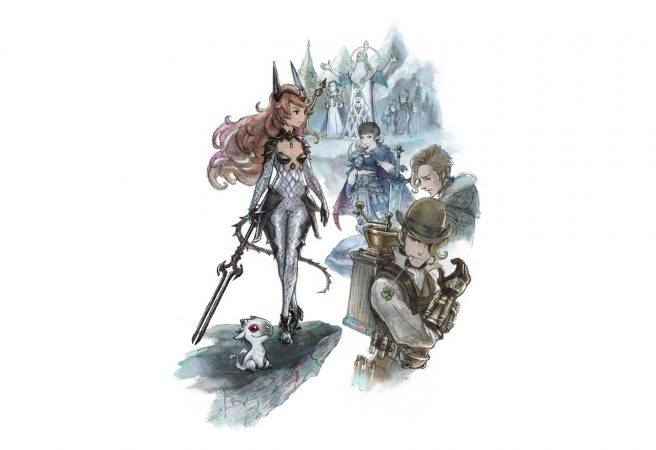 Square Enix provided a big update on Bravely Default II today. Lots of new details and a trailer have been released covering Rimedahl, various characters and jobs, sub-quests, and the Bind & Divide card game.
Here's the full rundown, courtesy of Gematsu:
Rimedahl, The Snow Kingdom
– A religious nation surrounded by snow and ice
– According to legend it was saved by a dragon about 1,000 years ago
– The Church of Rimedahl, which worships the dragon that saved the nation as its Dragon God, is the country's official religion
Marpha Lancer
– Dragoon Asterisk Holder
– A woman who serves as the "Guardian of the Dragon Cave," a sacred place where the Dragon God is said to inhabit
– The Lancer family has served as Guardians of the Dragon Cave for generations
Goamel
– A small, lizard-like creature who suddenly appears in front of Seth and company on their way to Rimedahl
– He speaks human language and insists he is the child of the Dragon God
– He seems to have met Adelle in the past
Gladys Kelly
– Swordmaster Asterisk Holder
– Friar of the Rimedahl Church
– She and Helio, the Inquisitor, locate fairies deceiving humans and interrogate them
– Since her parents were killed by fairies, she continues to hunt fairies for revenge to this very day
Helio
– Spiritmaster Asterisk Holder
– A man who became the Inquisitor of the Rimedahl Church after being recognized by Domovoy, the Church's highest priest
– He uncovers humans disguising themselves as harmful fairies and holds divine trials in the court
Domovoy
– Oracle Asterisk Holder
– The highest priest of the Rimedahl Church
– Has the deep trust of the people
– He claims his words are those of the Dragon God, and that the calming climate of the frigid Rimedahl is proof of their faith
Gran Booth
– Salve-Maker Asterisk Holder
– The mayor of Enderno Village near Rimedahl
– He is trying to obtain the moonlit grass to save his younger brother Grin, who fell into a deep sleep in the grief of losing his wife
Jobs
– Dragoon: Dances on the battlefield with a spear in-hand; specializes in the use of spears; can "Jump" to attack enemies by surprise from the sky
– Swordmaster: Slays enemies with counterattacks; wields a sword using a unique stance and overwhelms enemies with powerful counterattacks and pursuits
– Spiritmaster: master of spirits; support job able to summon spirits; they ward off the dangers of the battlefield with continuous recovery
– Oracle: A mage entrusted with law; job that can manipulate law; can even alter the speed and attributes of its targets
– Salve-Maker: engineer that draws out the power of tools; job that can gain various effects by combining items
Sub-Quests
– In addition to the main scenario, there are numerous sub-quests for players to accept
– By lending a hand to those in need of help, you can get rewards as well as witness unseen sides to the world and characters that you would not otherwise see in the main scenario
– Not only will you see events that you would miss in the main scenario and get to battle tough enemies, you might also get to hear the after-episodes of Asterisk Holders
Bind & Divide (B 'n' D)
– "B 'n' D," a popular card game in the continent of Excillant, is a mini-game where each player lays six cards and vie to occupy territory by having control of more of the game board at the end of the match
– This mini-game is also unlockable now in the "Final Demo" of Bravely Default II by completing the main scenario
– Players can build their deck of six cards, and freely combine "Monster Cards" (occupies territory), "Job Cards" and "Character Cards" (both of which possess additional effects)
– Townspeople with a card mark over there head can be challenged to a game of B 'n' D at any time
– You can also spend the points you earn by winning and get cards from the opponent's deck
– Build a deck of six cards from those in your possession, then start the game
– Each player will lay one card per turn to occupy territory
– If you sandwich opponent-occupied territory, you can steal your opponent's land. But they can also steal it back
– Job Cards and the like on have special effects that can strengthen or even weaken Monster Cards of a specific race
Bravely Default II arrives for Switch on February 26.
Leave a Reply