Bravely Default II details – online functionality teased, another demo with save data transfer possible, more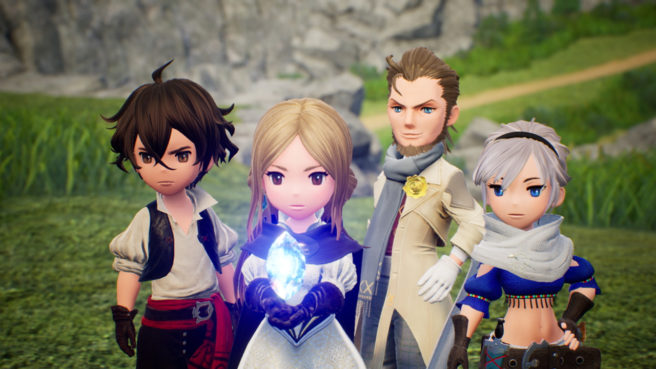 Bravely Default II developers Tomoya Asano and Masashi Takahashi spoke more about the RPG in a previous issue of Famitsu. The two hinted at possible online functionality, addressed the chances of another demo with save data transfer, and more.
Here's the full roundup of tidbits:
– This game is going back to the series' roots
– Insinuates that Octopath Traveler was a result of them reflecting on Second, and improving from there
– The name was decided on based on wanting to give the impression to brand-new players that this is a totally new entry with new world, new story
– Didn't include a subtitle because they want to avoid spoilers
– Confirms that characters from previous entries will not be in this one
– Considered having them appear in the game, but ultimately decided not to include them because they didn't want to alienate new players
– Compared to the previous games, which had younger protagonists and stories, this has older characters and a more mature story
– Elvis is 35; the others are in their 20's
– This is as a result of considering their audience's age
– They say there's lots of players of the Asano Team's games that are around their age in their 30's
– Used people from Far East Amusement Research (FEAR) and Creek and River for the scripting
– New voice acting (JP) and character expressions during dialogue scenes
– Lip movements were adjusted to match both the English and Japanese speech
– Same character designer as Octopath Traveler
– Job designs were all single-handedly done by him
– Wanted a sense of unity in the job designs
– Design approach was modern versions of jobs
– There will be new jobs to announce like with the vangard job
– Things are going to feel fresh even for those who have played their previous games
– Though the name has been changed to "sub jobs", it's pretty much the same system as the "job command" from previous entries
– The command input is different in this game compared to other Bravely games (before was that you queue up all your party members' attacks then they'd happen; in Bravely Default II you go one by one)
– Gets asked about online features, and they say, "we're not saying no"
– About online, also said to look forward to something
– They wanted the look of the towns to feel like you were walking on top of a picture
– Style likened to papercraft
– Visual style of everything feels like miniature figures
– This also goes for monster designs
– Number of tracks are much more compared to other entries
– They sound pretty positive about the possibility of a demo of Bravely Default II coming out where you can transfer your save data to the full version, just like with Octopath Traveler
We recently translated more in-depth comments from Asano and Takahashi regarding Bravely Default II's name. You can read up on that here.
Square Enix will be bringing Bravely Default II to Switch later in 2020.
Leave a Reply