Circle Entertainment spotlight – first look at Castle Conqueror EX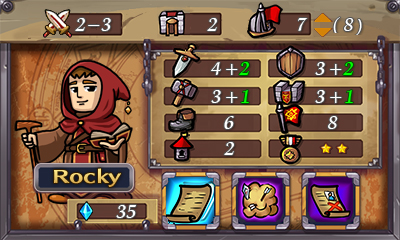 Circle Entertainment has given us an exclusive look at its upcoming slate of games. We're kicking things off today with Castle Conqueror EX, a real-time strategy title for the 3DS eShop.
Castle Conqueror may sound familiar if you kept track of DSiWare releases back in the day, as it was one of the more well-received DSiWare games. Now Circle Entertainment has revamped it entirely as the eShop release "Castle Conqueror EX".
There are four heroes for players to choose from in Castle Conqueror EX. Each has tactical cards that can be used in battle, and they bring about special advantages. Cards provide enhancements for a short period of time such as a power up or ability to curse enemies.
The gameplay rules have changed in EX. If this one, troops will attack any enemies they encounter.
Castle Conqueror EX's AI and levels have been redone, enemies are more intelligent, and the levels are more challenging. All items and hero abilities have been redesigned as well. Other elements that have been revamped/added include illustrations, UI, tutorial, bonus system, game balance, and more. Circle also informed us that there is a play coins feature that can be used to boost battle effects.
Compared to the original, EX is estimated to be 80 percent new. The only parts that remain the same are the core gameplay concept and story.
Circle Entertainment hopes to have Castle Conqueror out in early October for an affordable price. You'll find first screenshots from the game below.
Leave a Reply