Classic games James Pond Codename: RoboCod, Impossible Mission released on the European Switch eShop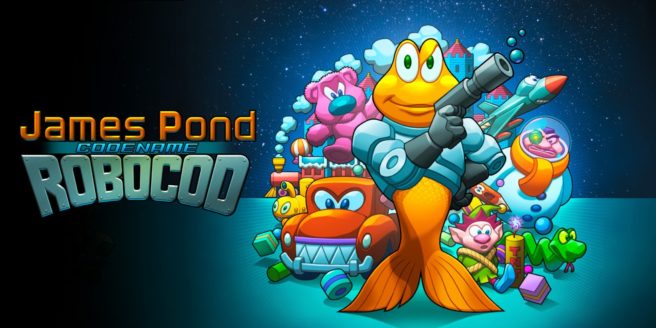 A pair of classic games have found their way to the Switch eShop in Europe.
First up is James Pond Codename: RoboCod, otherwise known as James Pond 2. The platformer originally debuted on the SEGA Genesis, Amiga, Atari ST in 1991.
Here's an overview and trailer for the game:
James Pond, one of the true gaming legends, returns for his greatest adventure yet in Codename: RoboCod. With scores of mind bending levels, cunningly hidden rooms, topped off with some of the best cartoon-style graphics around makes James Pond – Codename: RoboCod on Nintendo Switch a true collector's classic.

Urgent communication: James Pond – Codename: RoboCod has got himself embroiled in some very 'fishy' business indeed, involving his arch-nemesis, the notorious super-villain… Dr Maybe!

James Pond launches himself back into battle, to thwart the evil Dr Maybe and his dastardly plans for world domination. With help from his amazing new robotic suit, James Pond must traverse bizarre worlds, jumping, squashing, climbing, stretching and squishing Bouncing Bears, Crazy Cadillacs, Whirling Dervishes, Chocolate Mountains and not forgetting devious and wacky 'end-of level' Bosses!
Next up is Impossible Mission, an adventure-platformer from the Commodore 64 era. What makes this release noteworthy is that three different versions are included.
No trailer for this one, but we do have the following overview and screenshots:
A faithful adaptation of the past retro classic that improves on the original in every way. You have just 6 hours to find all the pieces to solve a mad scientist's puzzle while avoiding devious human-seeking robots and deadly black orbs. Includes three versions, the C64 original classic , a re-skinned classic and the totally updated new version.

The object of the secret mission is to put a stop to the evil genius, Professor Elvin Atombender, who is suspected of hacking into National Security computers. You must penetrate Atombender's Secret Island bunker. In a race against time, you must search for pieces of a secret password that will shut down the deadly missiles of the deranged Professor.

Using the elevator system, make your way through the maze of corridors of the secret hideaway, but beware, you will have to outwit the hordes of deadly robots that patrol each area.

The robots all react in different ways, so observe each robot in turn and try and learn its patrol parameters and attack methods.

Once into a safe area, check all objects, furniture and computer terminals for pieces of the Secret Password.

If you fail to find the Password, life on Earth as we know it will change forever…Atombender has Nuclear missiles pointed at strategic targets around the globe…The count down has begun…you have a matter of hours to save the planet…you have been chosen to undertake the Impossible Mission!

"…another visitor, stay a while, stay forever."
Europe seems to be the only region with access to these games. At least currently, they're not showing up on the North American store.
Source: Switch eShop
Leave a Reply